Lucy Zhao and Cathy Deckys, clinical associate professors in the School of Nursing, and their seventh semester Community Health Nursing students, in collaboration with University Health Services and the Central District Health Department, held a sexual health educational event on the Boise State campus on April 7.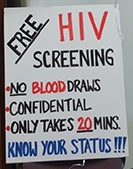 The event focused on HIV and the risks and prevention of sexually transmitted infections (STI). Free HIV screenings were administered and several students blanketed the campus quad with educational booths, games, and free condoms. Many students took advantage of the educational event.
In their research, the students learned that 50 percent of new HIV cases are in individuals under the age of 25. College students are at increased risk for several reasons, including, but not limited to: possible lack of knowledge about sex and STIs; sexual experimentation; risky behaviors such as drinking, drugs, and multiple partners; and a newfound freedom from parents or guardians.
Several students presented their research from the event at the Boise State Undergraduate Research Conference on April 17.