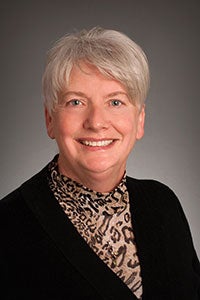 Marilyn O'Mallon is no stranger to the Boise State School of Nursing, though she just moved to Boise from Savannah, Georgia. O'Mallon has been teaching in the program as adjunct faculty for five years. Now she assumes a new role – associate director for the RN-BS Completion Track, the Adult-Gerontology Nurse Practitioner, and the Doctor of Nursing Practice programs at Boise State.
"I am especially impressed by the professional caliber of every member of the team in the School of Nursing," said O'Mallon. "Every single person contributes such a significant skill to enhance the quality of the programs."
For the last thirteen years, O'Mallon has been an associate professor in Savannah, Georgia at Armstrong State University, part of the Georgia university system. She has been running Armstrong's RN-BSN program for the last six years; a role closely related to her new position. O'Mallon feels that online education is critical in "offering flexibility for students who are balancing work, life, and studies."
O'Mallon worked as a civilian in military health care facilities in the United States and Germany for more than 16 years. O'Mallon's specialty areas of interest include palliative/hospice care, bereavement care, mental health nursing, perioperative care and family practice. Her doctoral dissertation research at Hampton University in Hampton, Virginia focused on caregiver perceptions of social support and family relationships in bereavement.
Applying for the leadership position in the Boise State School of Nursing was an easy decision for O'Mallon. She was already familiar with the university and school through her work as an adjunct faculty member and has always admired the team spirit at Boise State. Now she is excited to be more directly involved with the School of Nursing teams.