Lutana Haan, associate professor and chair for the School of Allied Health Sciences Department of Respiratory Care, Rosemary Macy, associate professor for the School of Nursing, and Leslie Kendrick, associate professor and chair for the School of Allied Health Sciences Department of Radiologic Sciences and director of the Diagnostic Radiography Program, were accepted for publication in the Health and Interprofessional Practice volume one issue three.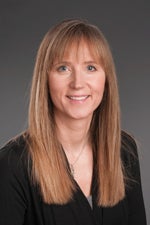 The faculty's manuscript, "Evolution of an Interprofessional Patient Skills Course with the Incorporation of Simulation Scenarios" was accepted for publication on May 19.
Interprofessional education is when students from one or more professions learn about, from, and with each other to enable effective collaboration and improve health outcomes. Interprofessional education allows students to bring their expertise in their discipline to the table and learn about other disciplines. It also offers students a chance to refine their soft skills, including communication, teamwork and problem solving.
The manuscript details a university level interprofessional patient skills course including nursing, radiologic sciences, and respiratory care students that has evolved over 20 years. The course includes a lecture and laboratory portion with specific content and skills focused on principles common to the three disciplines.
Students are placed in interprofessional groups during lab to practice and learn together. Each week, the students practice in a simulation scenario on the week's content. This educational strategy has enhanced the students' teamwork and communication skills and prepared them to apply these skills to clinical practice. Further research is needed to look at interprofessional education undergraduate healthcare course outcomes related to teamwork.
Interprofessional education is a natural fit in the simulation environment. Macy, Kendrick, and Haan's skills lab requires students from all three of these clinical disciplines to interact with each other and learn common skills that their disciplines will use in the field.
In 2015, Macy, Kendrick, and Haan conducted the first large-scale interprofessional simulation where a full cohort from each discipline participated in two immersive simulations during a semester. The cohorts were broken into groups of approximately 10 students, with six nursing students and two students each from radiologic sciences and respiratory care. One nursing, one radiologic science, and one respiratory care student interacted with a manikin while the other seven students observed from the observation room. These types of experiences allow the students to understand what expertise each field brings to the table so that the students will be more likely to include those professions in their future practice.
"Interprofessional education is especially important because it prepares students to practice collaboratively in multidisciplinary teams," said Joelle Powers, associate dean for the College of Health Sciences. "When they graduate, being able to provide high-quality team-based care will likely be a requirement of their jobs so we want students to have the interactive learning opportunities that will set them up to be successful."