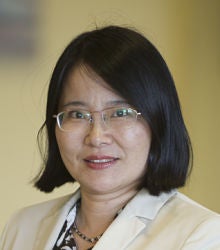 Lucy Zhao, assistant professor for the School of Nursing, has earned a second award for her research article, "A Comprehensive Assessment of Risk Factors for Falls in Community-Dwelling Older Adults" that was published in the Journal of Gerontological Nursing in October of 2018.
Zhao has received the Edna Stilwell Writing Award from the Journal of Gerontological Nursing as well as Best Gerontology Research Presentation from the Western Institute of Nursing in May of 2019.
The Edna Stilwell Writing Award recognizes their best article each year in the field of gerontological nursing and was established in recognition of the contributions of Edna M. Stilwell, previous editor of the Journal of Gerontological Nursing. The purpose of the award is to continue Stillwell's tradition of mentoring and recognizing authors in the field of gerontological nursing.
Zhao's article examines the risk factors associated with falls among homebound older adults, as Zhao found that about 30 percent of older adults aged 65 and above experience a fall annually. To examine risk factors, Zhao and her co-authors used a correlational study and data provided by the National Health and Aging Trend Study to measure characteristics of falls for 1,356 homebound older adults.
As a result, she found that hypertension, hearing impairment, balance problems, or depression/anxiety placed homebound older adults at an increased risk for experiencing falls. These findings allowed them to conclude that, in order to prevent falls in homebound older adults, community health nurses may consider assessing the fall risks found in the study and develop appropriate fall prevention strategies. Additionally, Zhao found that more studies are needed to examine the association between home environment and falls within this population.
Zhao is the 22nd recipient of the Edna Stilwell Writing Award and will receive her award at the annual Editorial Board meeting of the Journal of Gerontological Nursing during the Gerontological Society of America conference in Austin, Texas this November.
"We are so proud of Lucy, as this award is very well deserved," said Ann Hubbert, divisional dean for the School of Nursing. "We can all learn from her excellent research and article."