Impaired Driving can refer to operating a motor vehicle while under the influence of alcohol, drugs, or both.
---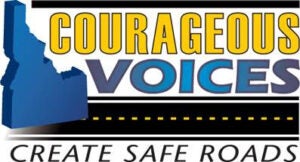 Traditional strategies to reduce impaired driving have focused on the driver. While these strategies are important, it is time to broaden efforts to include the entire community. ITD is initiating an innovative approach that engages the entire community in ending impaired driving in Idaho. The project is beginning with a pilot in three Idaho communities: Blackfoot, Lewiston, and Twin Falls.
The Courageous Voices website can be found by following above link and then clicking on the Courageous Voices tab.
---
Idaho Traffic Safety Resource Prosecutor

This is the official website of the Traffic Safety Resource Prosecutor (TSRP) for the State of Idaho. This site contains a wide variety of training resources and publications that can help you successfully prosecute cases involving impaired driving.
---

Founded by a mother who lost her daughter in a crash, Mothers Against Drunk Driving (MADD) is the nation's largest nonprofit organization working to protect families from drunk driving and underage drinking.
---
Read Natalie's story about surviving a fatal car accident where alcohol was involved.