Life Skills is the ability to cope with stresses and challenges of daily life, especially skills in communication and literacy, decision-making, occupational requirements, problem-solving, time management, and planning.
---
18 in Idaho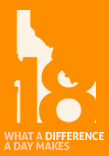 The age of majority is a term used to describe when a child becomes an adult in the eyes of the law, which for many things is 18 years old. The website 18 in Idaho describes some of what you are able to do now that you are 18.
---
Empower Idaho

Empower Idaho is a statewide program based in Boise, Idaho. We build partnerships with mental health advocates, consumers, their families, and providers for the purpose of improving behavioral health service delivery and to promote recovery and resiliency. Empower Idaho performs a variety of outreach activities that inform and educate Idahoans regarding the concerns of those living with a mental health diagnosis.
---
Stepping Stones

NWRECC Stepping Stones is a nonprofit agency with the goal of providing learning centers and service coordination that will teach residents self-sufficiency, independence, and create happy, healthy homes. We believe that if we give residents access to skills training and important services, we will provide a stepping stone towards a brighter future. Our mission is to end generational poverty by promoting self-sufficiency principles within affordable housing communities. Through a variety of resident services we advance independence by providing access to technology, community resources, skills training and mentoring to low-income families, senior and people with disabilities.