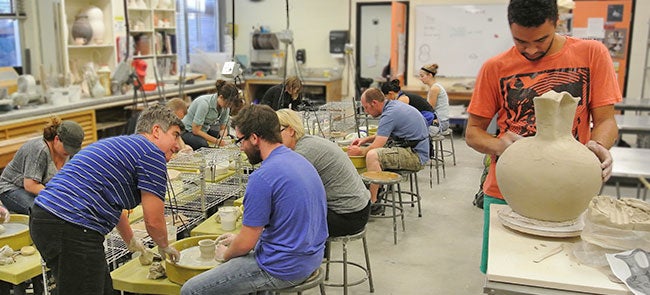 The Ceramics program at Boise State offers students the opportunity to comprehensively explore various ceramics methods, practices and art concepts within the context of contemporary ceramic practice. Beginning classes emphasize the development of technical skills, art making strategies and knowledge of ceramics history. Intermediate classes provide further immersion in the above and also focus on the development of methodologies for realizing a self-directed and rigorous work practice. Advanced study in ceramics stresses directed guidance toward producing independent, professional work. Further development of technical, iconographic and conceptual concerns and an understanding of the critical, conceptual and theoretical issues surrounding contemporary art are emphasized.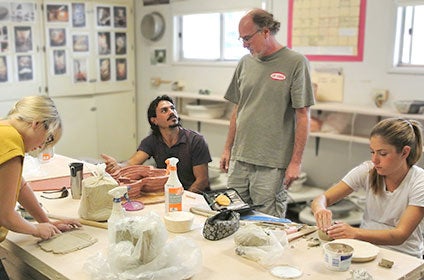 Facilities include two fully equipped ceramics studios, a plaster working area and two fully stocked glaze labs. Equipment includes: 12 Pacifica, 16 Brent CXC and 4 Shimpo Whisper-lite wheels, a slip-o-matic, 8 electric kilns, three down-draft, two updraft gas-fired kilns and 2 electric test kilns, 1 soda kiln, two raku kilns, 2 brent slab rollers, 3 extruders, 2 soldner clay mixers and 2 pug mills.
We also provide the unique disciplinary perspectives of two full time ceramics professors, and our visiting artist program brings ceramic artists to the campus each semester, many of whom are nationally and internationally recognized.
Past Visiting Artists include:
Jerry Rothman, Harris Deller, Susan Harris, Arthur Gonzalez, Josh Deweese, Yoshiro and Esther Ikeda, John Neely, Doug Casebeer, Eva Kwong, Chris Staley, John Ballistreri, Brad Schweiger, Robert Brady, Lydia Quezada & Rito Talevera, Richard Notkin, Robert Piepenberg, Stan Welsh, Tom Coleman, Rich Briggs, David Furman, Susan Filley, Jamie Walker, Jim Romberg, Susannah Israel, Richard Shaw, Sanam Emami, Marilyn Lysohir, Janet DeBoos, David Regan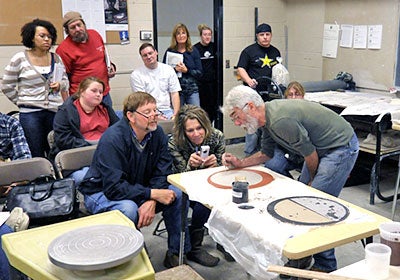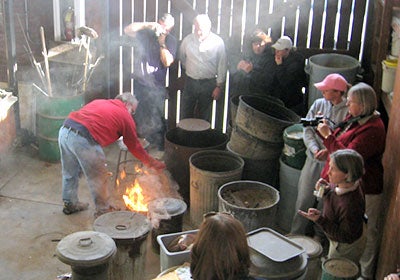 Faculty: James Budde. Caroline Earley