The B.F.A. in Graphic Design/Philosophy
According to the National Association of Schools of Art and Design, "Graphic Design is the profession that plans and executes the design of visual communication according to the needs of audiences and contexts for which communication is intended. Graphic designers apply what they have learned about physical, cognitive, social and cultural human factors to communication planning and the creation of appropriate form that interprets, informs, instructs, or persuades. Graphic designers use various technologies as means for creating visual form and as an environment through which communication takes place."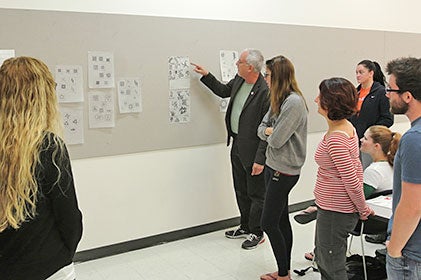 Our program is also broadly influenced by design thinkers such as Gunnar Swanson, who notes that "Design should be about meaning and how meaning can be created. Design should be about the relationship of form and communication. It is one of the fields where science and literature meet. It can shine a light on hidden corners of sociology and history. Design's position as a conduit for and shaper of popular values can be a path between anthropology and political science. Art and education can both benefit through the perspective of a field that is about expression and the mass dissemination of information…A primary task of design education is to find the balance between skills training and a general understanding that will benefit students, the field of graphic design, and working professionals."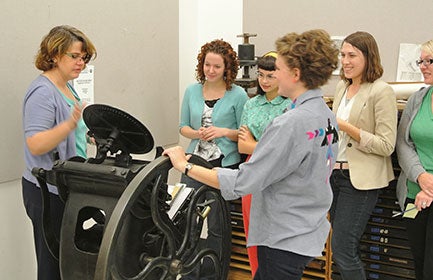 Therefore, in order to meet the needs of a synthetic and integrative discipline, the B.F.A. in Graphic Design provides students with a rigorous and comprehensive pre-professional training, balanced with a broad and rigorous liberal arts preparation. Students who complete the program are prepared to enter the professional field of graphic design and related specializations, or to apply for graduate school in graphic design and related fields.
Upper-Division Admission
In addition to meeting minimum criteria for upper-division admission into Visual Art, Graphic Design students must apply for upper-division standing in the program.
The application will include the following:
1. a current transcript,
2. a portfolio of artwork to be reviewed by the graphic design faculty, and
3. an application statement (not to exceed 500 words) reflecting upon your interests, background and aspirations pertaining to the BFA in Graphic Design.
Additional direction, assistance, and specific deadlines for each year's application process will be relayed in ART 277 and ART 288.
Source: Boise State University 2020–2021 Undergraduate Catalog, pg.70
Faculty:  Brian Wiley, Eryn Pierce