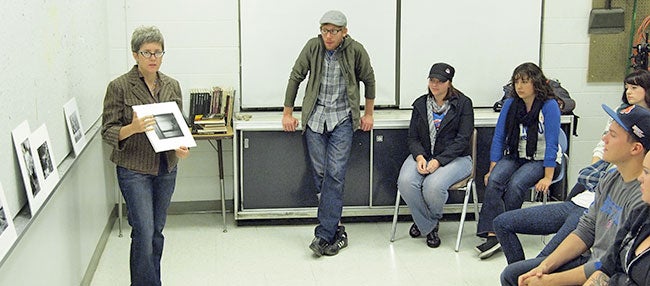 The Photography program emphasizes photography as a fine art. Students have the opportunity to master all aspects of the photographic process -from traditional darkroom black and white photography to color digital imaging. Required courses for students pursuing the Photography Emphasis include the introductory black and white course, intermediate level courses in black and white, digital, color, and advanced photography. The History of Photography is also a required course for the photography emphasis.
Introduction to Creative Photography provides a foundation in basic camera, exposure, and darkroom skills while stressing the expressive nature of the medium. At the intermediate and advanced levels, students are introduced to concepts and theories of photography through readings and discussions. In these classes students are encouraged to start to develop their own style and to produce a coherent body of work. Course work includes use of black & white darkroom, studio lighting, and digital photography. Critiques and exposure to contemporary and historical photographers enhance the level of discourse in the program.
Our facilities include a chemical lab for black and white printing, lighting studio and a digital lab equipped with Mac computers and large format Epson printers. Our labs are open for extended hours in order to provide abundant time for focused study and practice for the serious photographic artist. Students also have access to a variety of photography equipment, including digital cameras, medium format cameras, lenses, and portable lighting kits.
Students who have graduated from the photography program at Boise State have gone on to pursue Graduate degrees, become successful gallery artists, published books and have become teachers and professors.
Faculty:  Larry McNeil,  Laurie Blakeslee,  Jonathan Sadler