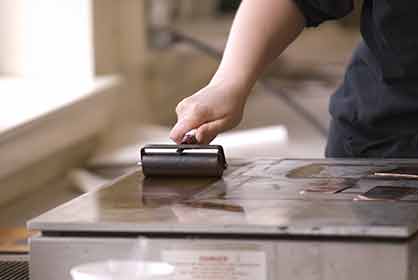 The Printmaking curriculum prepares students for graduate school, careers as professional artists, fine art printers, educators and servants of their communities. Hand-process print media are presented as primary tools, connecting to a broader art making
practice. Through studio work, students investigate their conceptual interests while being encouraged to explore, develop, discuss and be critical of their work.
At the introductory level, students learn the etiquette and safety skills necessary to work in a cooperative studio. The historical milieu of printmaking is presented along with the popular trends and processes utilized by contemporary print artists. First semester printmakers study and practice monotype, collagraph, linocut, drypoint and polyester plate lithography.
Intermediate printmaking students build upon their foundation. Knowledge of relief printing is expanded with the introduction of woodcut and wood engraving. Etching is introduced in Boise State's solvent and acid free studio. Screen print and digital applications are also a focus of the intermediate student. Intention and concept serve as a point of origination and discussion of student work in critique. Artist statements are a requirement with all projects at the intermediate and advanced level.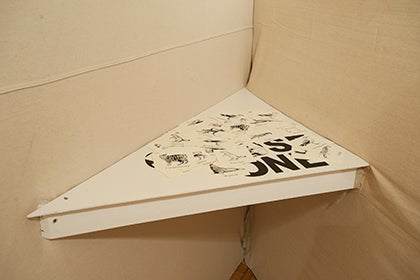 Advanced printmaking students serve as leaders in the printmaking studio. Through directed independent study, the advanced printmaker exhibits a strong work ethic, and a hunger for refining her/his skills and conceptual inquiry. Advanced students prepare formal presentations for their classmates by researching contemporary and historical artists who are/were masters of print media. Upper division students serve as assistants to visiting artists, initiate research for the Undergraduate Research Fair at B.S.U. and coordinate local printmaking exhibitions.
Faculty:  Jill AnnieMargaret