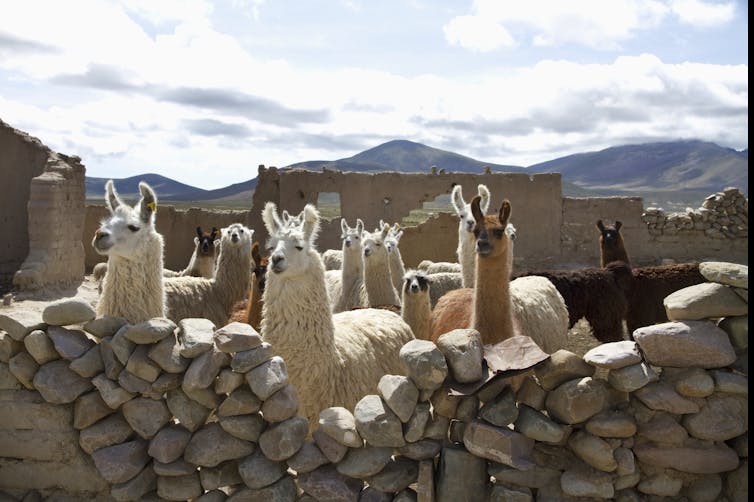 Emily Wakild, Boise State University
With their long eyelashes, banana-shaped ears, upturned mouths and stocky bodies covered with curly wool, llamas look like creatures that walked out of a Dr. Seuss story. And now they're celebrities in the U.S.
Because of their gentle and docile demeanor, llamas are often favorites at petting zoos. They appear at festivals and weddings and have even been deployed as therapy animals.
Llamas have also made medical news in 2020. Their immune systems produce nanobodies – tiny antibody fragments much smaller than human antibodies – that have potential as COVID-19 treatments. Scientists are also testing synthetic versions of llama nanobodies as technologies for treating diseases such as cystic fibrosis.
But there's much more to know about these engaging animals. In my work as a historian of Latin America, I've studied their long relationship with humans in their Andean mountain homelands. These interactions have shaped everything about llamas, from the length and color of their wool to their dispositions and reproductive habits.
A camel lineage
Llamas are the descendants of animals known as wild guanaco, which were domesticated in South America around 4500 B.C. Llamas and guanaco are two of four South American members of the camel family. The others are the alpaca and the vicuña, a wild species renowned for its soft wool.
Breeders regularly pair female llamas with male alpacas to create offspring endowed with fine, valuable alpaca wool. Male llamas are bred with female alpacas to increase the wool's weight.
These animals were important to the economy of the Incan Empire, which flourished in Peru from about A.D. 1400 to 1533. Incas used their wool to make fabric, which doubled as a form of currency. The animals also provided meat and carried goods over some 25,000 miles of Inca roads.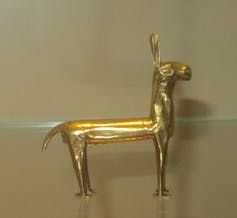 But the Incas didn't view llamas and their kin just as livestock. Rather, they were deeply woven into the region's culture and spiritual beliefs. Incas and pre-Incas sacrificed llamas and alpacas in religious ceremonies to promote fertility in their herds. They served the animals' meat at state-sponsored celebrations to honor rain gods. And they sacrificed and buried these creatures on newly conquered lands to legitimize Inca presence.
[Expertise in your inbox. Sign up for The Conversation's newsletter and get expert takes on today's news, every day.]
The finest wool
Archaeologists have unearthed mummified alpacas and llamas in Peru that were more than a thousand years old. The animals had been sacrificed and buried with beads, wool and silver pieces.
Analysis of these perfectly preserved specimens revealed their handlers' masterful selective breeding techniques. These animals had soft, wispy, quickly growing wool – finer than today's best cashmere. So what happened to the genes that produced such high-quality wool?
They disappeared.
After the Spanish took control of the Inca empire in the 1540s, Spanish rulers viewed llamas and alpacas as beasts of burden or sources of meat. Many of the animals died from diseases introduced by the Spaniards' imported sheep and cattle. It took nearly 300 years for Peruvians to achieve independence, and longer for indigenous Andean peoples' population and traditional husbandry practices to resume.