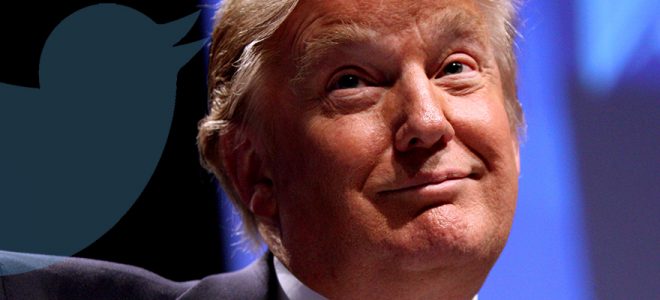 ---
---
---
The past year has presented a steady flow of norm shifting and rule breaking actions from the now year-old presidency of Donald J. Trump. One of the most profound shifts in procedure by the Trump White House has been the president's mode of communicating with the public. Although President Obama also used social media to share his message and connect with constituents, Trump's use of Twitter as a medium far surpasses Obama's use. The President's use of Twitter has been the topic of much analysis; political observers have been tracking his tweets, their expressed sentiment, and even the people and places Trump has insulted from the platform. Needless to say, the interest in Trump's tweeting continues. Here, we are less interested in how or why Trump tweets, and more interested in the effects. In particular, we want to know if Trump's use of Twitter undermined his administration's message, and have there been adverse affects on his legislative agenda?
STRATEGIC COMMUNICATION AND SOCIAL MEDIA
In recent years, a social media presence has become a staple for any political figure, whether national or local. While only a decade ago studies still showed gaps in what kinds of politicians utilized new media technology, the near-total embrace of these kinds of resources today has resulted in a shift from analyses about who uses new media tools to how they are used. Meanwhile, public adoption of social media has also increased enormously. In 2005, when the Pew Research Center started to track social media adoption, only 5% of adults in the United States used at least one social media platform; by early 2017 that figure had increased to 69 percent. Furthermore, members of the press, who often provide essential filter and linkage functions between political elites and the masses, have also adjusted to this new media landscape.
Clearly, from the perspective of politicians and other political elites, in a world where much of the electorate is engaged online and much of what the media says and does also functions online, there is great incentive to use new media tools – and, in particular, social media – in ways that systematically increase the likelihood of achieving goals. However, as Farrar-Myers and Vaughn note, "merely having such a presence is hardly sufficient to ensure that one's message is reaching its intended audience, not being drowned out – or, worse, distorted – by competing messages." The fundamental point being made is that making use of social media technology is only half the battle; using social media to meet goals is what matters. In an era where everyone has easy access to multiple social media accounts, those who use them with discipline, skill, and precision are the most likely to fare the best. After one year in the White House, how has Trump fared? In our attempt to answer that question, we turn to the field of strategic communication.
Strategic communication is fundamentally focused on utilization of resources and management of techniques, often across a wide and complex range of divisions, for the purpose of achieving identified objectives. As the communication space becomes increasingly digitized, so too do the ways strategic communication efforts are deployed. Our particular interest is in how political elites utilize strategic communication techniques as they seek to achieve their political and policy objectives. We are not alone in this interest, though much of the work focusing on strategic political communication – especially in the digital sphere – emphasizes either descriptive discussions of new opportunities for strategic communication or analyses of how strategic communication efforts functioned, with an underlying impulse to document how elites can better communicate in order to get what they want. For example, much of the literature on presidents 'going public' exist to documents which factors 'work' in shaping public opinion. The emerging consensus here suggests that presidents who want to lead in this way are best advised to stay on message, get out of Washington D.C., work local and regional media opportunities rather than national outlets, and deploy surrogates widely while ensuring they are each echoing the president's message
The bulk of research that exists on social media and strategic communication has developed in a similar fashion; the implicit theme of this work is that new technology can be harnessed in effective ways, if approached wisely and strategically. What this work largely leaves unsaid, however, is the danger technological proliferation also presents to political elites' prospects for goal achievement. That is, in their rush to document which factors work and when and why, not enough light is shed on what we call the dark side of strategic communication. That is, just as new media technologies present diverse and dynamic opportunities for political elites to control the message, they also present myriad opportunities for misuse, whether inadvertent or willful, to undermine the strategic narrative they are trying to establish. By analyzing instances of new media-driven strategic communication failure, we can augment and enhance our understanding of the current and future strategic communication environment.
TRUMP'S TWITTER EFFECT: FOUR CASE STUDIES
We argue that new media-driven strategic communication failure can manifest in the policy making process in four distinct but important ways. First, in ascending order of severity, non-strategic use of new media can distract desired public attention from key agenda items. Second, it can confuse or muddy the policy agenda. Third, non-strategic communication via social media can alienate potential coalition partners. Finally, non-strategic use of new media can directly derail policy goals by providing evidence to others in powerful positions of negative consequences and/or unacceptable motivations. To support this four-part argument, we identify and contextualize specific situations from the first year of Donald J. Trump's presidency.
Agenda Distraction: The Mika Brzezinski Tweets
One harmful effect of Trump's tweets is that they have distracted from his legislative agenda as well as Republican policy victories, arguably thwarting momentum and obstructing public good will. According to reporting, in late June 2017 the Trump White House was set to usher through two conservative immigration bills. However, the agenda was derailed after Trump fired off a couple of bizarre and vulgar tweets directed at MSNBC's Morning Joe co-anchors, Mika Brzezinski and Joe Scarborough. Early on Thursday, June 29, Trump tweeted:
I heard poorly rated @Morning_Joe speaks badly of me (don't watch anymore). Then how come low I.Q. Crazy Mika, along with Psycho Joe, came.. (June 29, 2017; 7:52am)
…to Mar-a-Lago 3 nights in a row around New Year's Eve, and insisted on joining me. She was bleeding badly from a face-lift. I said no! (June 29, 2017; 7:58am)
Trump's criticism of Brzezinski and Scarborough drew an immediate response, even from fellow Republicans. Later that day, when asked about the tweets, Speaker of the House, Paul Ryan (R-WI), stated, "Obviously I don't see that as an appropriate comment. What we're trying to do around here is improve the tone, the civility of the debate. And this obviously doesn't help do that." On Twitter, other Republicans added their disapproval. Ben Sasse (R-NE), Lisa Murkowski (R-AK), Lindsey Graham (R-SC), and Lynn Jenkins (R-KS) all condemned the president's tweets, while Orrin Hatch (R-UT) and Susan Collins (R-ME) indirectly criticized the president's tweets.
Although Trump's administration and party were set to move forward on immigration issues, Republicans were forced to answer questions from the media about the president's comments on Twitter and to address their constituents' concerns over whether such language is appropriate, demonstrating how Trump's tweets distract from his party's legislative agenda and derail a focus on substantive issues for days at a time. 
Muddying the Agenda: The DACA Tweets
In the fall of 2017, Trump's use of Twitter contributed to widespread confusion and criticism surrounding the federal program Deferred Action for Childhood Arrivals (DACA), hindering Trump's own Justice Department. At a press conference on September 5th, 2017, Attorney General Jeff Sessions announced that the Trump administration would be ending the Obama era policy on the enforcement of undocumented immigrants. In the announcement, Sessions explained that the policy would be phased out in around 6 months. However, just hours later, Trump sent off a tweet that would call into question the deadline, and his White House's commitment to dismantling DACA, leading to confusion over the administration's plans, and around 800,000 affected individuals unsure of their fate. Trump's tweet read:
Congress now has 6 months to legalize DACA (something the Obama Administration was unable to do). If they can't, I will revisit this issue! (September 5, 2017, 7:38pm).
Further muddying the water, on September 7th, Trump tweeted:
For all of those (DACA) that are concerned about your status during the 6 month period, you have nothing to worry about – No action! (September 7, 2017, 8:42am).
Here, Trump issued reassurance to DACA recipients, again offering a contrast to the official position of his administration as laid out by his own Justice Department, suggesting he had not solidified his personal position on this issue. While historically, presidents have had to make tough policy decisions that conflict with their own personal judgment, it is rare for those presidents to make public their disagreements once a formal administrative position has been taken up. However, Trump's decision to use Twitter for his personal musings, and on the fly, opened the door for just such an occasion, as the battle over positioning on DACA demonstrates.
Alienating Partners: The Mitch McConnell Tweets
Trump has also used Twitter to alienate members of his own party, in an attempt to displace blame and exculpate his own administration. For example, in July 2017, after Senate Republican's failed to pass their "skinny repeal" healthcare plan, Trump used Twitter to credit the bill's failure to Senate Majority Leader Mitch McConnell, after McConnell made a statement that attempted to shift some of the blame from Congress to the President.
Memorably, in July 2017, the Senate brought to a vote their version of a new health care act. However, to everyone's surprise, the bill failed to pass after Senators Lisa Murkowski (R-AK), Susan Collins (R-ME) and John McCain (R-AZ) voted no.
In the aftermath Trump used his Twitter account to blame the Senate filibuster, and implicated McConnell, by calling on McConnell to dismantle the filibuster:
The very outdated filibuster rule must go. Budget reconciliation is killing R's in Senate. Mitch M, go to 51 Votes NOW and WIN. IT'S TIME! (July 29, 2017, 6:28am)
In this tweet, Trump did not blame McConnell for the bill's failure, but instead for the rule that likely led to its failure. However, a few days later McConnell defended Congress and the unsuccessful vote by reminding his audience, a Rotary group in Kentucky, that legislation takes time. In his remarks, McConnell blamed the president for unrealistic expectations, noting that "Our new president, of course, has not been in this line of work before…" and "I think he had excessive expectations about how quickly things happen in the democratic process." Clearly reacting to these remarks, about a day later, Trump tweeted:
Senator Mitch McConnell said I had 'excessive expectations,' but I don't think so. After 7 years of hearing Repeal & Replace, why not done? (August 9, 2017, 1:14pm)
The piling on continued into the week:
Can you believe that Mitch McConnell, who has screamed Repeal & Replace for 7 years, couldn't get it done. Must Repeal & Replace ObamaCare!" (August 10, 2017, 5:54am)
This particular feud culminated with Trump retweeting Fox and Friends, a daily Fox News program, that speculated openly whether McConnell should step down as Majority Leader.
This scenario demonstrates that Trump is unafraid to go after members of his own party, especially when those members target his own political competence. Although past presidents have been known to feud with members of their own party, Trump's Twitter account makes these feuds public, and thus intraparty fissures more difficult to deny.
Derailing Goals: The Travel Ban Tweets
Trump's tweets have also directly thwarted his administration's expressed policy goals. On January 27th, less than a week after his inauguration, President Trump signed Executive Order 13769, "Protecting the Nation From Foreign Terrorist Entry Into the United States." The order limited the entry of citizens from seven predominantly Muslim countries (Libya, Iran, Iraq, Somalia, Sudan, Syria, and Yemen) into the US. After this order was blocked by the courts, the Trump White House drafted a new order, Executive Order 13780, by the same name that the President signed on March 6, 2017. Unlike the first order, 13780 removed language that could allow for preferential treatment of Christians from the banned countries, which the courts ruled had violated both current statute and the Constitution. However, similar to the first order, it was met by criticism, and quickly challenged in court. The challenges drew in evidence outside of the specific language of the order, which included Trump's Twitter record.
In particular, the majority opinion of the 9th Circuit, which was against the Executive Order, published June 12th, cited a specific tweet from Trump that supported the argument that the order discriminates on the basis of nationality:
That's right, we need a TRAVEL BAN for certain DANGEROUS countries, not some politically correct term that won't help us protect our people! (June 5, 2017, 6:20pm).
From the decision by the 9th circuit mid-June:
Indeed, the President recently confirmed his assessment that it is the "countries" that are inherently dangerous, rather than the 180 million individual nationals of those countries who are barred from entry under the President's 'travel ban.'
Thus, the court used Trump's tweets as evidence of the discriminatory nature of the executive order. The choice by a federal court to cite a tweet from the president drew a lot of attention, and demonstrates an instance where the president's own words on Twitter undermined his stated policy agenda.
CONCLUSION
Politicians' use of social media can both hurt and help their electoral and policy goals. Here, we focused on several examples of when social media use did not advance but rather undermined the strategic message and interests of a single case, the early months of Donald J. Trump's presidency. By focusing on the counter-productive consequences of these examples, we hope to broaden the conversation about the use of social media by politicians to include more discussion of how social media is used and to what effect. To be sure, social media can be used successfully in the furtherance of a president's policy agenda, particularly if its use is disciplined and part of a broader, multi-media strategy. However, as the cases we briefly discussed in this essay point out, non-strategic use can derail a policy agenda in a variety of ways.
If President Trump wishes to experience more policy success in year two of his presidency than he did in year one, he would be wise to listen to the growing chorus of critics, including many in his own party, that he take a more disciplined approach to his Twitter account, and to communication in general. The answer is not necessarily for him to simply stop tweeting, but to start doing so in ways that are more consistent with achieving his policy goals.