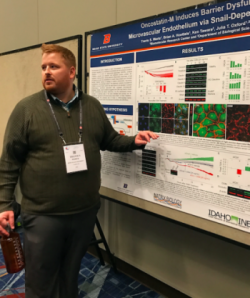 April 22-23, two Boise State biology students, Travis Wertz and Brian Hoettels, presented their research at Experimental Biology 2017, a conference held in Chicago. It included six major scientific societies and over 50 guest societies, with an estimated attendance of roughly 14,000 people.
Wertz and Hoettels were the only scientific presenters from Boise State, and were two out of six students representing Idaho. They presented their posters at two separate sessions: the Microcirculatory Society poster discussion and the Experimental Biology poster sessions titled "Inflammation/Leukocyte-Endothelium Interactions" (Wertz) and "Tissue Microvessel Interactions/Extracellular Matrix" (Hoettels).
Wertz currently is an undergraduate student and will graduate on May 6. Hoettels received his undergraduate degree from University of Wisconsin and has been working as a volunteer research assistant in the lab of assistant research professor Richard Beard. Both students have been working with Beard for nearly a year, and both were recently accepted and will be matriculating into the Boise State biomolecular sciences doctoral program this fall.
"In my opinion, both students are incredibly smart and represented Boise State really well in the national scientific community," said
Beard. "In fact, on more than one occasion, I heard them being mistaken for graduate students or postdocs by other scientists in attendance."
By: Cienna Madrid