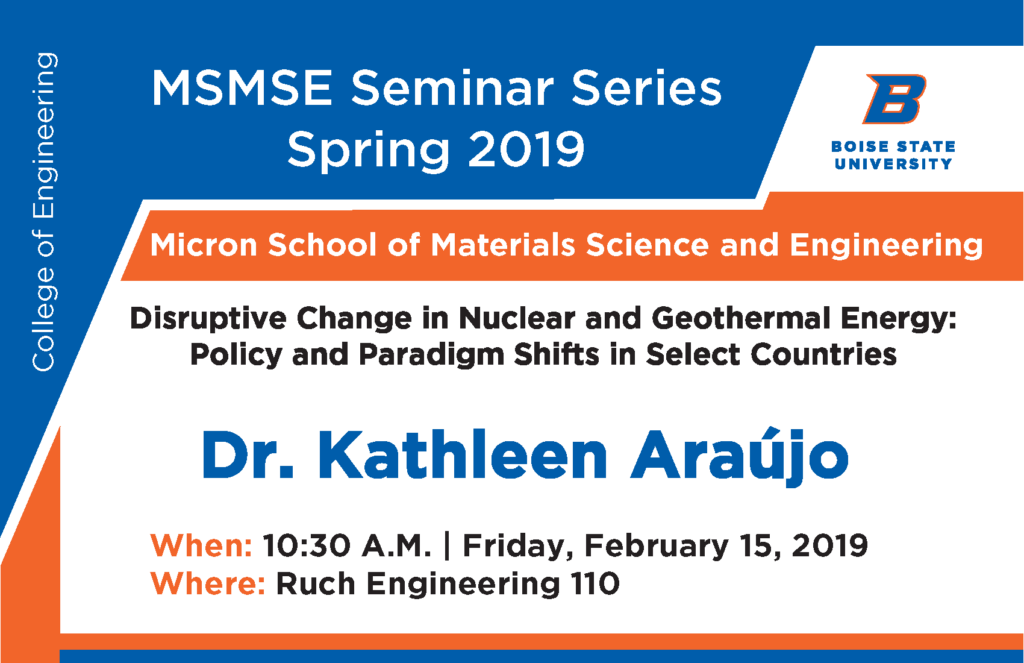 As the world considers energy challenges of the 21st century, nuclear and geothermal energy represent power and heat options that hold important insights into system change. Such cross-sectoral forms of energy technologies have histories of rapid, centralized utilization in key countries. These technologies are also undergoing new perturbations through scientific breakthroughs and user adaptations. This presentation examines adoption amidst technology change, illuminating insights about timescales and policy pivots in evolving energy pathways.
Dr. Kathleen Araújo is Associate Professor of Energy Innovation Systems and Policy, and Director of the Energy Policy Institute at Boise State University, in conjunction with the Center for Advanced Energy Studies. She works to advance critical decision-making on energy systems change in line with priorities that include sustainability, security, and industrial development. Dr. Araújo's approach identifies levers and approaches which enable innovation in practices and science. Her book Low Carbon Energy Transitions: Turning Points in National Policy and Innovation (Oxford University Press) sheds light on such interactions through an in-depth look at four, socio-technical system transformations that occurred since the global oil crisis of 1973.
Dr. Araújo is Book Series Editor for Routledge's Studies in Energy Transitions and a member of the editorial board for Energy Research & Social Science. She earned her Ph.D. at MIT and completed post-doctoral research at the Harvard Kennedy School in science-technology policy, and nuclear safety. Dr. Araújo consults for governmental/inter-governmental organizations and industry.