Energy often is taken for granted until its ease of access disappears. Only then, when the car won't start or an entire city grid struggles to bounce back from a catastrophe, does the reality of that reliance hit home. As constant users of energy, communities and industry are finding a growing need for skilled leaders and informed users to tackle the multifaceted issues of energy sustainability, protection and access.
That's why this spring, Boise State University associate professor Kathy Araújo and Idaho National Laboratory are collaborating to train students on resilience assessments as part of an interdisciplinary course taught by Araújo on the complexities of energy-related decision-making. The new course, which debuted in spring 2020, 21st Century Opportunities and Challenges in Energy – Strategic Decision-making about Systems Change, provides problem-directed training for 20 undergraduate and graduate students from four schools at Boise State.
"Energy is fundamental to all aspects of our daily lives, yet most people learn about energy primarily through their utility bills and prices at the gasoline pump," says Araújo. "As energy users, we should have a better sense of how the decisions relating to energy are being made and what trade-offs are being factored into those choices."
Araújo is the director of the Energy Policy Institute, and is passionate about advancing decision-making and skills relating to energy.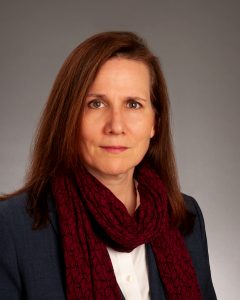 This course will provide experiential learning for students, in order to prepare them to be more informed users and critical thinkers of energy.
This first-in-kind partnership with INL's Infrastructure Assurance and Analysis Group empowers students with access to an INL-developed cloud-based tool, called All Hazards Analysis Framework (AHA). This tool is used to guide research and policy decision-making.
Using AHA, Boise State students are assessing the current resilience status of regions for interdependencies impacting the energy sector.
By examining trade-offs involved in energy decisions, students will refine and focus their critical thinking and energy systems analysis skills. The course's interdisciplinary nature brings together perspectives from engineering, economics, policy, innovation and other fields, mirroring the multifaceted teams needed to solve energy challenges at regional, national and international levels.
Chase Christen, a student in the materials science and mechanical engineering program said that the wide ranging disciplines involved in the class and presentations by field experts from INL and local energy leaders has provided valuable insight to him as a student.
"We have been given the opportunity to investigate a region's energy resilience to disruption such as cyber attacks or grid failure by using the All Hazards Analysis tool developed by the Idaho National Laboratory in a class project. My group specifically is looking into the energy resilience of  south-western Washington if the lower Snake River dams were to have an engineering failure or close due to economic or environmental reasons," said Christen.
For Araújo, partnerships such as this one empowers the state and region by creating deep channels for problem-solving and innovation, as well as an informed generation of energy users.
"I want students to be able to evaluate an energy topic in such a way that they can think critically about the pros and cons of the choices, what the impacts may be and who is affected," said Araújo. "As an interdisciplinary class that brings undergraduate and graduate students together from a cross-section of fields, my aim is for the students to also be able to consider energy choices as individual users and producers, as well as at a group level that can impact the overall energy system."