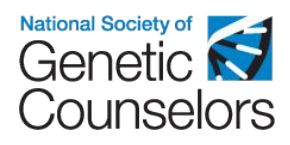 National Society of Genetic Counselors Prospective Genetic Counselors Symposium
Genetic counselors are professionals who have specialized education in genetics and counseling to provide personalized help patients may need as they make decisions about their genetic health. Consider attending an event in Salt Lake City, Utah to learn more about the career.
When: November 8th, 2019 7:30 AM-1 PM
Where: Calvin L. Rampton Salt Palace Convention Center, Salt Lake City, Utah
What:  Meet current genetic counseling students and program directors, discover what a day in the life of a genetic counselor is like, have your questions about the field and graduate school answered, and attend a talk at the conference!
If interested in attending, please fill out this form: https://forms.gle/GpT6mrxo7fsLsMSa7
Email resources.snmsig@gmail.com with any questions.