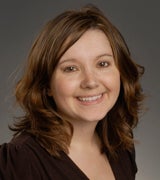 The current international system to classify diseases, ICD-9-CM, has become outdated with no room for expansion. These limitations are impacting medical research, the cost and quality of services provided, and the management of electronic health records (EHRs).  In order to correct the situation, two new systems, the International Classification of Diseases, 10th Revision, Clinical Modification (ICD-10-CM) and the International Classification of Diseases, 10th Revision, Procedure Coding System (ICD-10-PCS), were adopted in January 2009.  The new systems require hospitals, clinics, and insurance companies among many other health care-oriented entities to change multiple systems, including billing, patient records, practice management and more.  All health care associated businesses must comply with by October 1, 2013.
Jaime Sand, an assistant professor in the Department of Community and Environmental Health, has become an expert in the ICD-10 systems and is offering her expertise to Idaho health care professionals. Sand is an industry-approved trainer and is offering trainings in coordination with the Center for Excellence for Environmental Health and Safety every few months.
The ICD-10 consists of 3-7 alphanumeric character codes (compared to 3-5 digit numeric codes), houses more than 100,000 codes (compared to less than 20,000), and provides significantly more specificity (requiring better documentation). The impact on these providers and facilities is huge.  Billing systems, patient record systems, reporting systems, practice management systems, and system interfaces must be updated.  Health information management professionals, such as coders, are not the only ones who must learn the new systems. Personnel with facility information systems and payer systems, administration, clinicians, and clinical support staff must also learn about the news systems as implementation planning is beginning now.  Implementation may still be two years away, but it is recommended that facilities and providers start planning now, addressing issues such as education and training, project planning (including a timeline), effects on operations, budgetary considerations including productivity, the impact on individual departments, and documentation improvement.