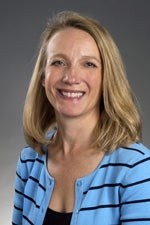 Linda Osgood, BS, MA, RHIT, professor in the Department of Community and Environmental Health, was confirmed to the Action Community for e-HIM® Excellence (ACE) by the American Health Information Management Association (AHIMA).
AHIMA, through its electronic health information management (e-HIM) initiative, is committed to accelerating the migration to a fully electronic health information practice. AHIMA believes that effective health information management can improve patient safety and the quality of care.
As an ACE member, Osgood will lead and influence e-HIM, making a difference at Boise State, around the Treasure Valley community and at the state and national levels. ACE members:
Participate in regional health information exchange activities
Lead data quality improvement efforts in their organizations
Speak at state or national HIM conferences
Inform and influence health IT discussions in their organizations
Contribute to the design of next-generation HIM applications
Collaborate in advancing HIM practice in their communities
Mentor students and new professionals, launching them into great careers
The ACE Challenge identifies, prepares, engages, mentors, and recognizes those working to transform HIM practice. ACE members join the challenge through recommendation or self-nomination. They match their skills and interests with volunteer and career-building opportunities.
ACE preparation includes self-assessment and educational offerings. Members form the preferred pool of experts and network of peers transforming HIM through mentoring, writing, speaking, and testifying for AHIMA and its 52 Component State Associations. ACE members attain personal recognition and will be acknowledged by peers, employers, and the healthcare industry.