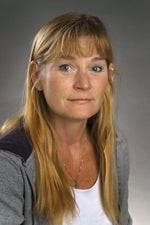 Congratulations go out to Sue Antonich for receiving the Office Professional of the Year award from the Idaho Association of Educational Office Professionals (IAEOP). Antonich received the award in McCall, Idaho during the Association's annual conference in April.
As stated in her many letter of support, Antonich is the sole support staff for the Department of Radiologic Sciences which houses four degree programs with programmatic accreditation requirements. Her responsibilities range from initiating and tracking all financial transactions and budget reconciliation to web page development and upkeep to course scheduling. She is the initial contact and advisor for prospective students and the immediate contact for the department with current Boise State students, faculty, staff, and professional communities of interest. In these interactions, she creates a positive and inviting atmosphere for the department. With a smile, she does all that she can to help students succeed in the department and at Boise State.
In addition to her departmental duties, Antonich serves as the building coordinator for the Health Sciences Riverside building. She is also an avid advocate for Boise State University Association of Office Professionals (Boise State AOP) and has served on the Executive Board since 2004, holding multiple positions including president, past president, vice president, and treasurer. She also served as vice president for IAEOP from 2009 to 2011.
Antonich often volunteers to serve on college and university committees to plan events, such as the Boise State AOP Holiday Auction or decorating the Health Sciences Riverside building for homecoming. Such events often allow Antonich to share her artistic talent as an accomplished painter with the community. When you see Sue around campus, be sure to congratulate her on such a well deserved and prestigious award!
As a result of this award, IAEOP will nominate Antonich for the National Association of Educational Office Professionals Olive T. Ritchie Educational Office Professional of the Year award, which will be given out during the national conference in July.