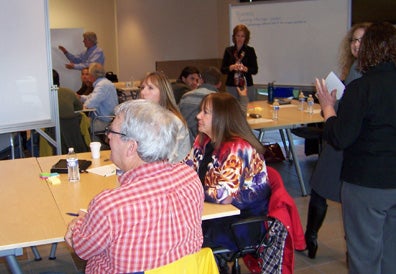 On Oct. 23, an interdisciplinary group of faculty from the College of Health Sciences, the College of Engineering, and the College of Business and Economics convened for a need-driven idea generation session focused on new or improved medical devices. The session was facilitated by Dr. Kent Neupert, director for the Center of Entrepreneurship and supported by the Office of University and Industry Ventures and the College of Health Sciences Office of Research.
Dr. Neupert provided an overview of the process then turned groups of faculty loose to generate a list of clinically relevant problems that could be mitigated or eliminated by a device. Health sciences faculty described unmet needs encountered within their clinical practice and engineering faculty helped to explore the relevant technical specifications. Each group then selected their top three ideas and presented them to the larger audience.
The top nine ideas are currently being evaluated by the iTeams, an interdisciplinary team of graduate students led by Dr. Neupert and the Office of University and Industry Ventures, to provide a preliminary summary of each idea's business potential. Once this has been completed, the most promising projects will be selected for further refinement and may ultimately provide an enriching experience for senior undergraduate engineering and business student project teams.
This is the second such event, with more planned in the future. The first session held in August of 2011 resulted in one invention disclosure with an additional two projects still in the prototype development process. The goal of these sessions is to tap into the clinical and technical expertise of Boise State University faculty and create a pipeline of device ideas with commercial potential.
If you have questions, or are interested in learning more about these sessions, please contact Kent Neupert or Terri Soelberg.