Environmental and Occupational Health students Emily Zamzow and Sam Frank will be interning with the U. S. Public Health Service this summer in the Junior Commissioned Officer Student Training and Extern Program (JRCOSTEP). These are highly competitive positions; in 2011, only 67 appointments were made from 420 applications. This is an outstanding opportunity to work with the United States Public Health Service, which seeks to hire students that graduate from the Boise State University Environmental and Occupational Health program because the program is accredited.
As one of the seven uniformed services of the United States, the PHS Commissioned Corps is a specialized career system designed to attract, develop, and retain health professionals who may be assigned to Federal, State, or local agencies or international organizations to accomplish its mission.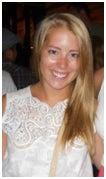 Zamzow will be stationed in Show Low or Pinetop-Lakeside Arizona and will be working 30 miles east on the Apache Indian Reservation under two other employees of the Department of Health and Human Services. Zamzow will be involved in the following activities on the reservation:
Inspections of homes (mold), casinos, pools and restaurants
Teaching a monthly food safety course
Rabies clinics
Tick/Rocky Mountain Spotted Fever Clinics
She will also be visiting other tribes in the area.

Frank will be stationed Gallup, New Mexico for the summer working on the Navajo Nation Indian Reservation. The Navajo Nation is made up of anywhere between 250,000-300,000 Navajos and is the largest Native American Reservation in the country in terms of landmass. He will be working in the "Occupational Safety and Health Division" of the Indian Health Services. Frank will be involved in the following activities on the reservation:
 Food sanitation inspections
Vector born disease control programs
Measuring air quality
Working with head-start programs
Inspections of wastewater treatment and drinking water facilities.