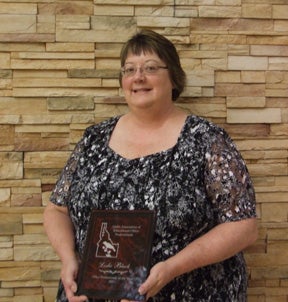 Leslie Black, administrative assistant II for the College of Health Sciences, has won the Idaho Educational Office Professional of the Year award. Black received the award on April 12 during the Idaho Association for Educational Office Professionals (IAEOP) annual conference, held in Fort Hall, Idaho.
Black has worked at Boise State University for 18 years, the last 10.5 in the College of Health Sciences. Black's creativity and excellent communication skills allow her to present both the college and university at their best at every public meeting, alumni gathering and contact with external vendors and friends.
Currently, Black is the dedicated staff support for the college's director of development and alumni relations, Sunny Wallace. As a part of this role, Black is the primary support staff for the Friends of Nursing board, a group of volunteers who raise money to support the School of Nursing. While Black has been supporting the College of Health Sciences development director for a number of years, she has also been a financial technician for grants and local accounts for the college's Center for Excellence for Environmental Health and Safety, the Center for Health Policy, and the Center for the Study of Aging.
Black strives to support her fellow educational office professionals through serving on the Boise State University Association of Office Professionals (BSUAOP) executive board. Black has served as president, vice president and president-elect of BSUAOP and is currently serving again as president-elect. Black will be installed as president of BSUAOP in August 2013. She also serves at the state level, beginning her second year as corresponding secretary of IAEOP.
As a result of this award, IAEOP will nominate Black for the National Association of Educational Office Professionals Olive T. Ritchie Educational Office Professional of the Year award, which will be given out during the national conference in July.