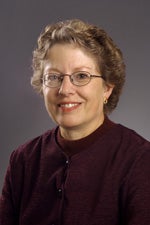 Georgia Girvan, emerita director of the Idaho Regional Alcohol and Drug Awareness Resource (RADAR) Center, was given the Lifetime Achievement Award by the Idaho Conference on Alcohol and Drug Dependency (ICADD) on May 15 at the 29th annual conference, which was held in the Boise State University Student Union Building. ICADD chair Cheryl Johnson presented the award.
ICADD is the main training forum of the ICADD Foundation, an Idaho nonprofit foundation. The purpose of the ICADD Foundation is to provide education and training opportunities regarding alcohol and drug prevention, intervention, treatment and aftercare issues for alcohol and drug professionals, educators, health care professionals, legal professionals, and recovery support.
To be nominated for the ICADD Lifetime Achievement Award, the nominee will have demonstrated long-term devotion to the advancement of substance abuse treatment, including substantial contributions in the state of Idaho, either as a treatment professional or as an advocate of substance abuse treatment or both.
Girvan directed the Idaho RADAR Center, the statewide substance abuse information clearinghouse and resource referral center located at Boise State, from 1999 until her retirement in 2011. She acquired funding for the center and, thanks to the dedication of two permanent support staff and numerous college students, facilitated the annual distribution of more than 200,000 pieces of material, and filled more than 1,200 orders per year for patrons seeking print and video material. One of her proudest accomplishments was overseeing the center's relocation, which doubled its size.
Girvan's master's degree in health education from Idaho State University, as well as her previous work experiences, including classroom teaching (preschoolers through older adults), reconciling insurance claims, and coordinating conferences, all contributed skills that were utilized during what she describes as "her dream job." She has been both energized and inspired by the many colleagues she served working in state agencies, educational settings, law enforcement, and community coalitions who challenged her to broaden her vision and find yet another way to reach those who might benefit from the center's services.
Girvan began her service to ICADD in 2000 as a liaison between the ICADD Planning Committee and Boise State's conference services, and has worked in a variety of capacities including growing and coordinating conference exhibits, chairing the foundation board and planning committee, and performing administrative duties.
Girvan's involvement in the following professional and community organizations was key to her contribution to ICADD: Boise State Institute for the Study of Addiction, Treasure Valley Alcohol and Drug Coalition, Safe and Drug Free Schools State Advisory Board, Idaho Enforcing Underage Drinking Laws Partnership, Boise School District Substance Abuse Advisory Committee, Office of Drug Policy State Strategic Prevention Partnership, Tobacco Free Idaho Alliance, Substance Abuse Librarians and Information Specialists, Idaho Public Health Association, and the Idaho Department of Health and Welfare Region IV Regional Advisory Committee. Her appointment as adjunct instructor in the Boise State Department of Kinesiology from 1999 to 2009 allowed her to teach college students substance abuse prevention skills. Moreover, Girvan, and her husband of 44 years Jim Girvan, were chosen together as the first Boise State Faculty-in-Residence for the Health Professions Residential College.
Upon retirement in 2011, Girvan was named emerita director of the Idaho RADAR Center at Boise State. She was recently honored for her community work by the Women and Children's Alliance's 2013 Tribute to Women and Industry (TWIN) Award, and in 2005 was selected for the Idaho Department of Health and Welfare Region IV Outstanding Service Award.
In addition to the Girvans' professional achievements, they have been blessed with two children, both married, and three grandchildren.