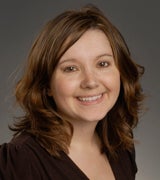 Jaime Sand, an associate professor in the Department of Community and Environmental Health, collaborated with Boise State library faculty members Marilia Antunez and Mary Aagard on a presentation titled,"Rediscovering Academic Libraries for Degree-Seeking Older Students" for the 2013 Idaho Library Association (ILA) conference in Nampa, Idaho.
The presentation was based on data collected from a survey, which assessed the use of student services by degree seeking Boise State students who are 50 and older. It addresses the unique aspects of this population in the university setting.
Sand assisted Antunez and Aargard with survey development and data analysis. Future research is anticipated to compare the most recent findings with a similar assessment of degree-seeking students under the age of 50, in order to understand whether older, non-traditional students would benefit from additional or different resources.
The purpose of the ILA is to strengthen and empower the library community with the exchange of ideas among librarians, educators and students.