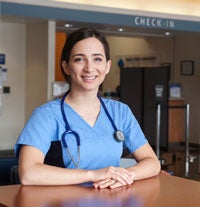 Effective February 1, University Health Services at Boise State will join the College of Health Sciences. Current programming through University Health Services is progressive, with a focus on integrated delivery necessary to effectively promote prevention and create value within the environment of health care reform. Faculty and student partnerships have been initiated between the School of Nursing and Health Services through student clinicals and limited faculty practice. Coming under the umbrella of the college provides a wonderful opportunity to align faculty who also practice, enhance the scope of teaching, and foster additional research partnerships.
The mission of Health Services is to provide the Boise State community with an integrated model of delivery enabling our campus partners to retain, enhance, promote, and improve upon their physical, mental, and emotional health. In serving their constituents, the Medical, Counseling, and Wellness departments provide highly skilled and licensed staff, specialized resources, and experiential learning opportunities in support of the overall mission of Boise State University. Similarly, the college's mission is to foster partnerships that promote health and quality of life through teaching, research, and service. The new College of Health Sciences model will enhance the health of the Boise State community and enrich the learning, research and service opportunities of the college's students, faculty and staff.
Additionally, moving University Health Services completely under the college will offer opportunities and better support the overall mission of Boise State. For example, faculty could have shared appointments within Health Services in order to enhance their practice efforts and more effectively promote interprofessional education (IPE). The college hopes to work with its community partners to create a "Teaching and Research Clinic" that provides services to targeted populations outside the university. Finally, employee and student wellness programming could be expanded to enhance prevention efforts across campus.
"Health Services is committed to providing comprehensive, convenient, and affordable care to students, faculty and staff at Boise State and looks forward to expanding its efforts through the new alignment with the College of Health Sciences," said Tara Brooks, manager of patient services at University Health Services.
The change reflects the increasing role that allied health professionals will play as the Affordable Care Act transforms the health care industry. In the coming months, the college will review how its newest members and assets may alter the course of the college's strategic plan. Once the college has a better idea of its new strategic course, it will revise its strategic plan and share the revised plan with its stakeholders.