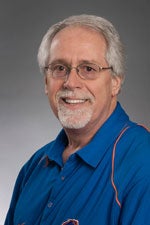 The Coalition Chronicle, a publication of the Coalition for Baccalaureate and Graduate Respiratory Therapy Education, has published an in-depth profile of the Boise State University Department of Respiratory Care, authored by Lonny Ashworth, professor and director of the RRT to BS Degree Completion Program, Department of Respiratory Care.
The profile gives a historical perspective of the department and an overview of the faculty and staff, the curriculum, and the equipment used in the department's programs.  Offering two options to students, the department has students enrolled in an on-campus, bachelor of science degree in respiratory care and an online, degree completion program that allows respiratory therapists with an associate's degree to complete their bachelor's degree. The profile emphasizes the diversity and activities of the students enrolled in both programs.
Students in the on-campus program are from several different states within the United States as well as students from Japan, Saudi Arabia, Kuwait, Mexico and Kenya. Presenting more than 50 times at the American Association for Respiratory Care International Congress, these undergraduate students are also actively involved in research.
Over the past five years, graduates from over 315 colleges and universities have submitted inquiries or requests for admission to the Degree Completion Program. Inquiries and applications have been received from 49 of the 50 states in America, as well as Japan, Saudi Arabia, India and Canada. After reviewing the transcripts and verifying National Board for Respiratory Care credentials, over 436 students have been accepted. Currently, students from Japan, Saudi Arabia and 39 states are enrolled in courses in the Degree Completion Program or have completed the program.