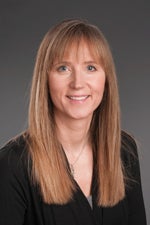 In July, Lutana Haan, faculty in the Department of Respiratory Care, was invited to give two presentations on mobile learning and active learning at the American Academy of Respiratory Care annual meeting for Educators and Managers in Marco Island, Florida.
One presentation discussed ways to enhance classrooms with the power students and faculty carry in their pockets. The presentation provided practical methods to harness the power of mobile technology for teachers and students. Additionally, it provided strategies for using specific applications in lectures to engage 21st century students.
The active learning presentation focused on engaging students in "lecture" classes so that students learn and retain information presented during lectures. Haan taught participants techniques that they could use in their classrooms to engage their students.