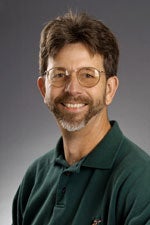 Jeff Anderson, faculty in the Department of Respiratory Care, presented two three-hour lectures on the importance of matching the ratio of ventilation to perfusion to Idaho State University pharmacy students on Sept. 8 and 10. Ventilation refers to gas that reaches hollow cavities in the lungs, known as alveoli, while perfusion refers to the blood flow to the alveoli through capillaries. When ventilation and perfusion are mismatched problems with oxygenation of the blood or removal of carbon dioxide can occur. The lectures provided the basics of this physiology, as well as clinical conditions and their influences on arterial blood gases when the  ventilation-perfusion ratio is mismatched. Pharmacists will dispense medications that can influence these relationships, and will participate in the care of critically ill patients with diseases that impair the matching of ventilation and perfusion.
Anderson also gave a presentation on spirometry at the Nurse Practitioners of Idaho fall conference on September 13. Spirometry is a lung function test that measures how much and how quickly you can move air out of your lungs. The presentation included the American Thoracic Society guidelines for performance and interpretation of spirometry, how various disease states influence spirometry values, indicators for the need to perform complete Pulmonary Function Studies, and demonstrations of forced vital capacity measurements.
Anderson most recently presented a class to new critical care nurses at Saint Alphonsus Regional Medical Center on evaluation and treatment of respiratory failure. This Oct. 2 class also included a review of abnormalities of ventilation and perfusion, patient assessment, and an introduction to invasive and non-invasive mechanical ventilation.