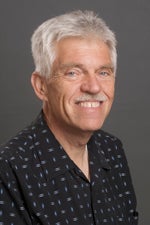 Each year the Idaho Public Health Association (IPHA) recognizes individuals and/or organizations having contributed outstanding service in the field of health. Members of IPHA are delighted to honor Dr. John Rusche, Idaho state representative, and Tom Turco, lecturer for Boise State's School of Allied Health Sciences Department of Community and Environmental Health, with the IPHA President's Award and the Award for Excellence in Public Health, respectively. IPHA will honor these men on Dec. 8 at 5:00 p.m. in the Farnsworth Room of the Student Union Building at Boise State University.
"We are recognizing Dr. John Rusche with our President's Award for his outstanding service," said Conrad Colby, RRT, PhD, President of the IPHA. "We feel he exemplifies efforts to improve public health in Idaho." Rusche has led significant efforts to improve vaccination rates, behavioral health services, emergency service systems, low income health financing, health screening policy and health insurance coverage during his time in the Legislature. He is a recognized expert on health and health care financing.
Turco's excellence in public health is evidenced through his passion for helping individuals succeed, whether it be through his leadership in the Royal Family Kid's Camp for children in foster care, the energy he invests in working with students as a faculty member at Boise State University, or the 25 years he invested as director of environmental health at the Central District Health Department. As expressed by Sarah Toevs, IPHA board member and past president, "Tom's actions demonstrate the meaning of the social determinants of health which recognizes that the capacity to be healthy and to succeed is dependent on a multitude of factors."
Dale Stephenson, professor and director of the School of Allied Health Sciences adds, "Tom's desire to help students achieve their life and professional goals is unparalleled. In his spare time Tom's work with underprivileged children validates his passion to better our community. We are extremely fortunate to have Tom as a faculty member at Boise State University and as a resident of Idaho."
The reception is open and free to the public. Advance registration is required and can be made by visiting http://www.ipha.wildapricot.org/event-1745130/Registration.