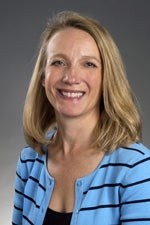 Linda Osgood has been selected as the interprofessional education program director for the College of Health Sciences, effective June 2015.
Interprofessional education entails students from one or more professions learning about, from and with each other to enable effective collaboration and improve health outcomes. Interprofessional education allows students to bring their expertise in their discipline to the table and learn about other disciplines. It also offers students a chance to refine their soft skills, including communication, teamwork and problem solving.
As interprofessional education program director, Osgood will coordinate the planning between disciplines and manage and evaluate a variety of interprofessional education related initiatives and projects. The goal is to grow the footprint of interprofessional education, in teaching and research, both within and outside the college.
Osgood is an assistant professor in the Department of Community and Environmental Health in the School of Allied Health Sciences. She was the program director for the Health Informatics and Information Management degree from 2006-2012, prior to the degree being incorporated into the Health Science Studies degree. Osgood began as an adjunct faculty in January 1999 and joined the faculty full time in 2002 as a special lecturer.
Osgood combines her expertise and experience as a consultant, health information director and quality management director to teach a variety of courses related to health informatics, health information, pathophysiology, and human growth and development at the undergraduate level. She has also conducted medical terminology workshops for community organizations.
Osgood has a Bachelor's degree in Health Information Technology and Management from Boise State and Master of Arts in Education, Curriculum and Instruction from Boise State. Her research is in the areas of online learning, student concerns and complaints, health information education and the implementation of electronic health records.