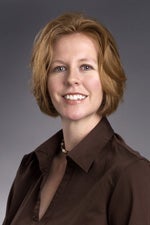 Terri Soelberg, director of the College of Health Sciences Office of Research, was elected to a four-year term on the board of directors for the National Organization for Research Development Professionals (NORDP). She will also serve as co-chair of the Member Services Committee and will maintain her role with the MSC Metrics Committee.
Research development professionals facilitate connections between faculty from multiple disciplines and support efforts to secure external  research funding. In addition, they initiate and nurture critical partnerships throughout the institutional research enterprise and with external stakeholders. The NORDP develops and shares best practices that span administrative boundaries within organizations and beyond, in order to foster interdisciplinary research excellence.
"I am excited to be part of the leadership team for this great organization," said Soelberg. "There is a wonderful diversity of institutions and consultants who participate in NORDP. Many on the board are from large, research intensive universities. It is a great opportunity to represent the perspective of emerging research universities and to work with some of the national leaders in the field."
Soelberg has a bachelor of science in business administration from the University of South Carolina-Spartanburg and a master of education degree in human relations counseling from Northern Arizona University. She is a Certified Research Administrator, one of two in the State of Idaho. The designation of Certified Research Administrator (CRA) signifies that an individual has met eligibility requirements of the Research Administrator Certification Council and has demonstrated knowledge of the fundamental information necessary for a person to be a professional research or sponsored program administrator. She has worked in higher education for sixteen years. Prior to coming to Boise State, she held the position of assistant to the dean for the College of Engineering at Northern Arizona University and was the program coordinator for a National Science Foundation grant focused on under-represented students in STEM disciplines.