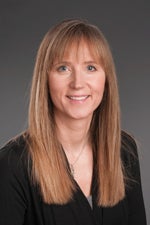 Lutana Haan, assistant professor in the Department of Respiratory Care, spoke at the 2015 Annual Idaho Sleep Professionals Association Meeting on Oct. 4 in Hailey, Idaho.
Lutana presentation was titled, "Sleep and Obesity" and focused on the effect of hormones on both sleep and obesity, the effect of short duration on obesity, and the role of emotional stress.
The meeting was attended primarily by sleep technologists, physicians, and nurse practitioners in Idaho who work with individuals with sleep disorders.
The Idaho Sleep Professionals Association, formerly known as the Idaho Sleep Disorders Association, provides an ideal setting for healthcare professionals to discuss the hot topics related to sleep, and a forum to view new and existing products and services.