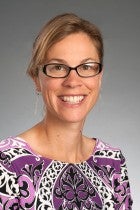 Nichole Lasich, clinical instructor in the School of Allied Health Sciences Department of Community and Environmental Health, will be teaching two University Studies Abroad Consortium (USAC) courses in San Ramón, Costa Rica in Fall 2016. USAC is a non-profit consortium of US universities joined together to provide high quality, affordable study abroad opportunities. Boise State is part of the consortium, and students are encouraged to apply.
Global Environmental Health is the first class Lasich will offer during her time in San Ramón. The class is a 200-level, three credit course to strengthen student knowledge about global environmental health in an interactive learning atmosphere. Population dynamics, food production, pollution, and water quality are among many of the topics to be explored.
The second class Lasich will be offering is Women's Health. This class is a 400-level, three credit course to explore the intersection of race, gender, culture, and socioeconomic status in order for students to have a more holistic perspective of women's health.
Students enrolled in the program will have the opportunity to attend Universidad San José to study other upper division science courses in an ideal location for ecology, biology, and health sciences, in small groups with field experience. Students will also be able to participate in independent research, internships, or volunteer in field-related institutions while enjoying a small town atmosphere with easy access to the best of Costa Rica. Eligibility to participate includes a current minimum grade point average of 2.5 and applications can be submitted until June 15, 2016.
Students interested are encouraged to contact Lasich at nicholelasich@boisestate.edu or (208)426-3912.