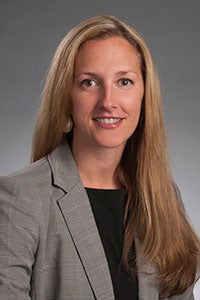 For the past four years, Joelle Powers has supported graduate students as the School of Social Work's master of social work coordinator. In July, she assumed a new role: associate dean in the College of Health Sciences, replacing outgoing associate dean Ron Pfeiffer.
The position will transition her from working primarily with students in the nationally-ranked MSW program – Powers also was an associate professor in the school – to taking on a more administrative role within the college, one that supports faculty as well as students.
"I've loved teaching the next line of practitioners, while still being able to conduct research and connect with vulnerable populations," Powers said. "But this new role is exciting, too. Being an associate dean is centered around supporting faculty and students in a different way, at a different level. I need to be meeting with other schools and departments — what do they see as needs and how can we better support them?"
The college has its challenges. For instance, the School of Social Work is grappling with how to best support students who aren't physically on campus. The school's incredibly popular online MSW program debuted in January. During its last admissions phase, the online program accepted just 30 percent of applicants.
"It's an incredibly steep learning curve, supporting students who aren't physically on campus," Powers said. "On the other hand, this program is so popular because for the first time, we're able to provide incredibly flexible programming. Students have jobs, they have families, and right now our face-to-face program is only offered full time. By allowing students to take one class at a time online, and pause if they need to, we're better meeting student needs and demands in a way we weren't able to. In fact, I was surprised by how many of our online students are local."
The role of associate dean is not an unfamiliar one for Powers, who served as associate dean at University of North Carolina's Chapel Hill campus before moving to Boise with her husband and two young sons. Her primary research interest in North Carolina, and in Idaho, has been examining mental health in elementary schools, and bringing mental health experts to local schools to provide direct, consistent services to students whose needs wouldn't otherwise be met.
While Powers said her first goal as associate dean is to listen to faculty and staff to better grasp the needs of the college, she's quick to identify pressing needs in the Boise community.
"The needs are rapidly changing," she said. "We've been identified as a resettlement area, we're having an incredibly quick increase in refugee populations and we don't have the infrastructure to serve them well at this point – like language barriers that keep us from providing high-quality care."
Powers hopes to work with faculty and students to change that. She first discovered her passion for social work after taking a volunteer trip to Zambia and Zimbabwe in college.
"After seeing poverty in such an extreme level, I decided that whatever my career, I needed to be doing something in social justice," she explained. "My senior year, I took an introduction to social work class on a fluke and it changed the course of my life. I applied and got into an MSW social work program in San Diego. The rest is history."