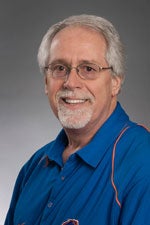 This summer, Lonny Ashworth, professor for the School of Allied Health Sciences Department of Respiratory Care, spent six weeks in Japan presenting workshops, recruiting students and working on several research projects. He presented more than 20 workshops at 11 different hospitals throughout the country to more than 450 physicians, nurses, physical therapists and clinical engineers.
The Department of Respiratory Care has graduated several Japanese health care professionals, and will graduate another one next year. Of the 20 registered respiratory therapists in Japan, seven are graduates of Boise State. Several more Japanese health care professionals consulted with Ashworth about their intent to come to Boise State in the near future. Even though respiratory care is not yet a recognized profession in Japan, many healthcare professionals are working very hard to make this happen.
While in Japan, Ashworth worked with several physicians, nurses, physical therapists and clinical engineers on research projects. As a result, one manuscript has been submitted for publication and three more are in the process of data analysis or final write-up. It is anticipated that all three will be submitted for publication this fall.
The following is a list of workshops Ashworth presented this summer for the International Exchange Visit Programme for Respiratory Care Professionals.
Mechanical Ventilation of the Adult Patient: one-day workshop presented to co-medical personnel, Yokohama Municipal Citizen's Hospital, Yokohama, Japan, June 2016
Mechanical Ventilation of the Adult Patient: one-day workshop presented to physicians and co-medical, Kurashiki Central Hospital, Okayama, Japan, July 2016
Mechanical Ventilation of the Adult Patient: one-day workshop presented to physicians and co-medical, KKR Takamatsu Hospital, Takamatsu, Japan, July 2016
Mechanical Ventilation of the Adult Patient: four, one-day workshops presented to co- medical, Kameda Medical Center, Kamogawa, Japan, July 2016
Mechanical Ventilation of the Adult Patient: two-day workshop presented to advanced nurses, Kameda Medical Center, Kamogawa, Japan, July 2016
Mechanical Ventilation of the Adult Patient: five, half-day workshops presented to physicians, Kameda Medical Center, Kamogawa, Japan, July 2016
Mechanical Ventilation of the Adult Patient: two-day workshop presented to physicians and co-medical, Shonan Respiratory Seminar, Fujisawa, Japan, July 2016
Mechanical Ventilation of the Adult Patient: one-day workshop presented to physicians, Teine Keijinkai Hospital, Sapporo, July 2016
Mechanical Ventilation of the Adult Patient: one-day workshop presented to co-medical, St. Luke's International Hospital, Tokyo, Japan, July 2016
Mechanical Ventilation of the Adult Patient: one-day workshop presented to physicians, St. Luke's International Hospital, Tokyo, Japan, July 2016
Mechanical Ventilation of the Adult Patient: one-day workshop presented to physicians and co-medical, Nippon Medical University Musashikosugi Hospital, Kawasaki, Japan, July 2016
Mechanical Ventilation of the Adult Patient: one-day workshop presented to physicians and co-medical staff, Kishiwada Tokusyukai Hospital, Osaka, Japan, July 2016
Mechanical Ventilation of the Adult Patient: one-day workshop presented to physicians and co-medical staff, Mie University, Mie, Japan, August 2016