By: Cienna Madrid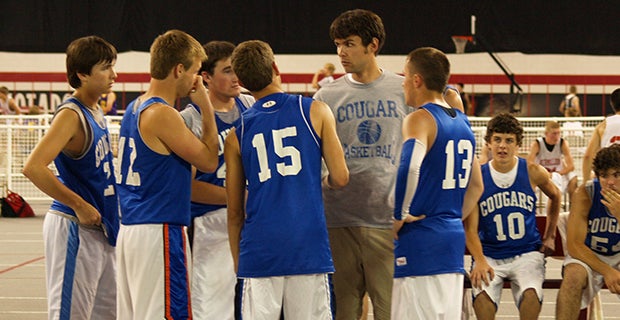 Think back to the hours (and years) you spent in physical education class in school. Or if you played sports as a kid, consider for a moment how you felt about your extracurricular basketball, soccer or tennis teams. Whether the memories you have of these experiences are positive or negative largely depends on the role played by a handful of people: primarily your P.E. teacher, your coach and a handful of other adults involved with the team.
Educators are increasingly aware of the important role these individuals play in the lives of budding athletes – especially in today's society, when encouraging children to live healthy, active lives is more urgent than ever. Fortunately, Boise State's Master of Athletic Leadership program is designed to create this next generation of athletic leaders.
"The Master of Athletic Leadership program is designed for anyone at any level of sports that want to work in athletics," explained program coordinator Scott Moorcroft. "But really, it's a program about leadership, designed to fit anyone who wants to work in athletics at any level, in any area. We have people working as coaches and athletic trainers, we have folks who work in schools in the community as athletic directors and P.E. teachers. We also have students who are in the fields of sports information and sports marketing."
The program launched three years ago with 14 students. The idea was to create a collaborative degree program that combined the strengths of Boise State's kinesiology and athletics departments. It follows a cohort model, with students starting the program in summer and finishing in six semesters. Now entering its third year, the program has 34 students enrolled.
Frank Dea, a 32-year-old physical education teacher, coach and athletic director, enrolled in the program after researching athletic administration degree programs, which he found to be focused solely on management concepts. "After contacting program director Tyler Johnson and discussing the program's emphasis on experiential based learning of athletic leadership through real-life applications, I was sold," Dea said. "The idea of joining a 'think tank' of professionals who place an emphasis on the positive experiences that athletics can provide was a motivating factor in my decision to apply to the program."
Dea will graduate from the program in spring 2017.
"We saw a real need for people to have a practitioner-based degree," Moorcroft said. "Originally, kinesiology was more science based – focused on biomechanics, physiology and other areas considered to be more academically and research minded. What we decided that we needed a degree to better serve the needs of people who weren't going to work in academics or research, but those who would be athletic leaders in the community. Based on our growth I think we've shown there is a real desire for this program."
The coursework is combined with 10 credits of practicum experience, which students use to connect the ideas discussed in class with what they're actually doing in their own worlds. Students are also paired up with two mentors: one in their career field and one at Boise State, both of whom work to develop them as leaders, and help them use the ideas and tools given to them in the classroom in a very real way.
"I've been able to establish my own leadership style and philosophy as I've progressed through the program and apply those concepts in the workplace," Dea said. "Once I identified my personal and professional core values, it became a lot easier to drive my athletic programs in the right direction. Ultimately, the goal of good leadership is to create positive change within an organization. Collaborative dialogue, creating constructive culture, self reflection, and conflict management are all vital skills that that I've learned to apply more effectively within my current position in order to positively affect my student-athletes, coaching staff and school administration."
"We were thinking this program would benefit graduate students who wanted to get into athletics, and people already in K-12 or college athletics, but what we're starting to see in the last year is more folks who are coming straight out of undergrad degrees who are looking for a practitioner-based program in leadership that has an experiential learning component," Moorcroft said. "We didn't expect that but I think we're going to see more programs like ours because people are realizing how important it is to train leaders in athletics. Not a lot of folks in athletics are taught how to be effective leaders. They learn the skills of the trade, but not necessarily learn how to lead."