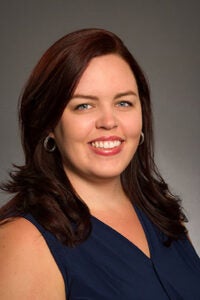 Samantha Davis, clinical assistant professor for the School of Allied Health Sciences Department of Respiratory Care, has been elected to be a board member for the National Asthma Educator Certification Board (NAECB) for the 2017-2019 term.
The NAECB is the national organization that creates and provides the examination to become a certified asthma educator, an expert in counseling individuals with asthma and their families on how to manage their asthma and minimize its impact on their quality of life. There are only 3,548 certified asthma educators worldwide.
NAECB's mission is to promote optimal asthma management and quality of life among individuals with asthma, their families and communities by advancing excellence in asthma education through the Certified Asthma Educator process.
Davis has been involved with asthma management much of her career. She has previously served on the Board of Directors for the children's asthma camp in Michigan, and as the Asthma Chair for the Michigan Society for Respiratory Care.
Davis earned an Associate of Applied Science in Respiratory Care and Bachelor of Health Services Administration from Baker College in Auburn Hills, Michigan. In 2014, she earned a Master of Science in Respiratory Care Leadership from Northeastern University in Boston, Massachusetts. Davis' primary areas of interest include asthma management of underserved populations, neonatal/pediatric intensive care, and online education.