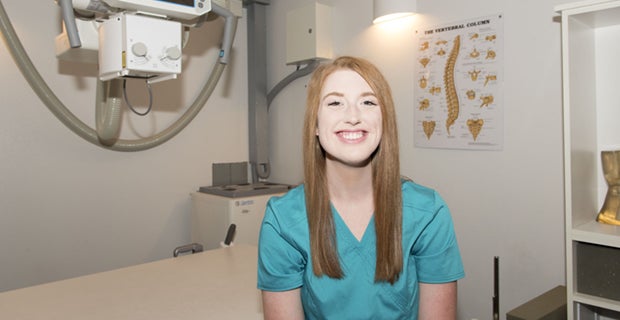 College of Health Sciences student, Kelly Larkin is the featured student speaker for Boise State University's Winter 2017 Commencement ceremony on Saturday, Dec. 16.
Larkin is graduating with a degree in radiologic sciences. She moved from Minnesota to attend Boise State over four years ago and quickly carved out a busy life for herself within the Boise State community, balancing an on-campus job and two radiologic technologist positions – which involves performing X-rays and health screenings – all while maintaining a 4.0 departmental GPA. Larkin also was elected vice president of Boise State's Student Association of Radiologic Technologists – an on-campus radiology club that helps radiology students get involved in the community.
"We did this by planning and then attending events such as school supply donations, Rake Up Boise, fundraisers, the Walk to End Alzheimer's, a food and coat drive, Adopt-a-Family, the Leukemia and Lymphoma Society's Light the Night Walk, and even building a float for the homecoming parade," Larkin said. "I believe attending these events not only are fulfilling, but are great for people in the medical field, as well, because you get to be involved in helping people in a completely different environment."
In addition, in her free time Larkin volunteered at St. Luke's Regional Medical Center as a call light volunteer, a position that had her responding to and interacting with the hospital's most vulnerable patients – those in critical condition or who need constant monitoring and care.
"Not only was I able to provide a service to patients in the hospital, but I was also able to assist the health care providers there and do something I was passionate about," she said.
Larkin's professors describe her as a dedicated, hardworking individual who is committed to achieving the high standards expected of a health care provider.
"Kelly is a living example of the College of Health Sciences core values – compassion, respect, teamwork, integrity and professionalism," said Leslie Kendrick, chair of the Department of Radiologic Sciences. "She is what we hope all graduates aspire to become."
Learn more about Larkin's Boise State experience in this video.