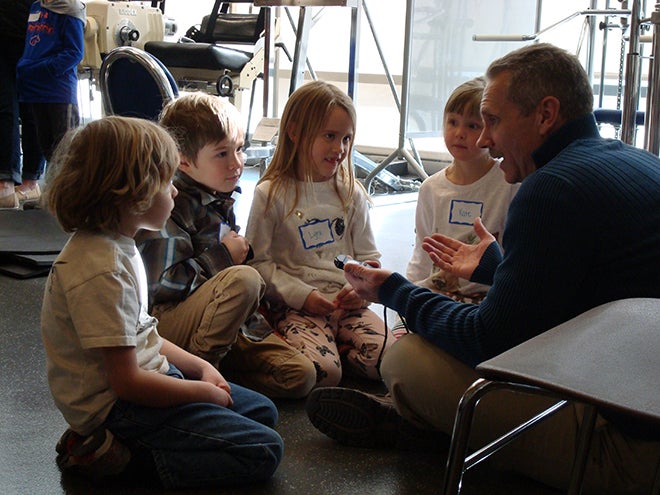 The College of Health Sciences, Human Performance Lab (HPL) was a room filled with excitement and laughter on Feb. 27, while it occupied 17 kindergarten students from the Foothills School of Arts and Sciences. Shawn Simonson, professor and director of the HPL for the Department of Kinesiology, and four Kinesiology students were able to provide an introduction to fitness testing of the human body.
The HPL is a facility that measures the physiological and fitness parameters of the human body through a number of various tests. The lab is designed to teach, conduct research, and provide service to faculty, staff, students, and individuals in the community. Some of the measurements that take place in the lab include body composition, metabolic testing, flexibility testing, exercise stress tests and more.
Catie Wardwell, kindergarten teacher at the Foothills School of Arts and Sciences, brought her students to Boise State's HPL to further her classes' understanding on how bodies function as a part of their project based learning unit on the human body.
Upon arrival to the HPL, the kindergarten students were split into five groups and got to experience testing at five different stations. The stations included climbing into the Bod Pod, taking a sit and reach test, performing a distance jump test, executing situps and pushups, and talking about mental health. After each student in the group was able to experience some extent of these tests, they were then taught the importance and impacts of the specific test and how it affects the human body. Allowing these kindergarteners to experience the different parts of the HPL enabled them to receive demonstrations of what ways human performance can be tested and understand the importance of taking care of their bodies.
Learn more about the Department of Kinesiology's Human Performance Lab, including tests and measurements that are available for a nominal fee to the public.