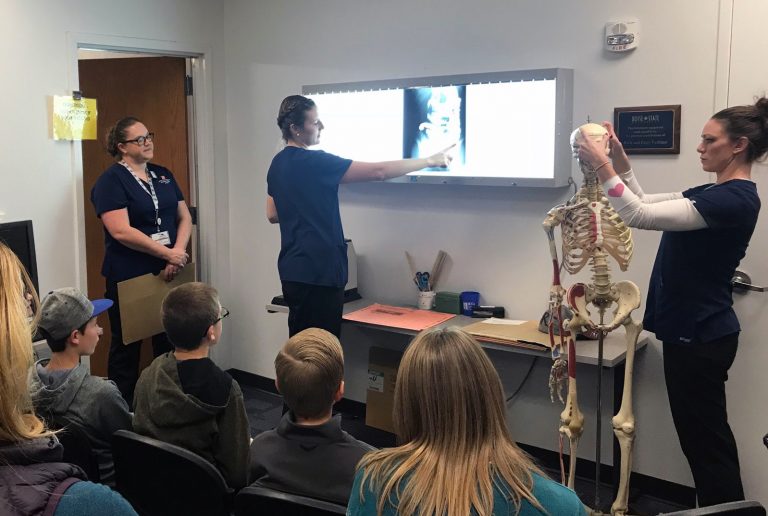 The Department of Radiologic Sciences hosted K-12 students from a homeschool program in the Radiologic Science Lab on October 31 to learn about manmade and extra-terrestrial radiation exposure.
Three second-year Radiologic Science students, Katherine McKenzie, Kimberly Costello, and Kaitlin Hoffman, provided a series of talks, demonstrations, and experiments to teach six homeschool students, who ranged from seven to nine years old, about radiation risks and beneficial uses.
The three student facilitators discussed how people can protect themselves from most radiation exposures on earth and spoke to the radiation risks faced by astronauts undertaking extended space travel. Attending students got to examine lead aprons, gloves and shields. They also compared man-made exposures of radiation to common exposures, such as exposure to sunlight vs. a chest x-ray.
Under the supervision of faculty and student facilitators, attending students were able to produce x-rays to take home. The students were very interested in the impact of gamma exposure on astronauts traveling to Mars and elsewhere. Considering that the presentation fell on Halloween, the students were especially excited about what they learned and their memento x-rays.
"For a young student group, the homeschool students really came into the discussion with knowledge and keen interest," said John Lampignano, visiting scholar for the Department of Radiologic Sciences. "The Radiologic Science students and I really enjoyed having them on campus."