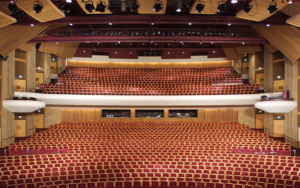 Morrison Center for the Performing Arts
The Department of Music is housed in the Velma Morrison Center for the Performing Arts, one of the finest facilities in the United States. Situated on the banks of the beautiful Boise River near downtown Boise, the Morrison Center greatly enhances the cultural life of Boise, Boise State and the state of Idaho. It includes a 2,000-seat performing hall used by Boise State departments, touring groups, and local groups such as the Boise Opera and the Boise Philharmonic.
---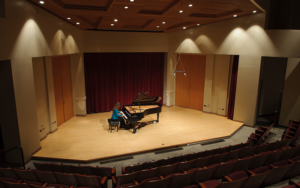 Morrison Center Recital Hall
In addition to the performing hall, the Morrison Center features many rooms especially designed for teaching and studying music, including a 200-seat recital hall, large rehearsal rooms for choral and instrumental groups, practice rooms, and individual sound-proof rooms for instruction in ensemble and solo music. As a performance facility, the Morrison Center contributes to Boise State's stimulating educational environment as well as its cultural, recreational, and professional atmosphere.
---
The Blue
Albertsons Stadium, best known for its distinctive blue playing surface, is the home of Boise State University football and the Keith Stein Blue Thunder Marching Band. Every fall, the marching band performs high-energy, entertaining halftime shows in front of thousands of fans. The band's headquarters are located in the Keith and Catherine Stein Band Hall. The building, adjacent to the Caven-Williams indoor sports complex, is one of the finest marching band facilities in the nation.
---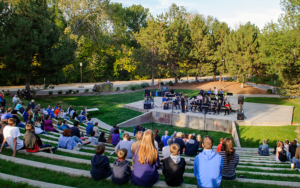 Centennial Amphitheater
The Centennial Amphitheater, a 16-foot-tall semi-circular structure that can seat 600 people, is a great compliment to the campus and Boise music scene. Located on the Greenbelt east of the Friendship Bridge between Albertsons Library and Taylor Hall, the amphitheater is a popular outdoor venue for concerts and other events organized by university and community groups. It is easily accessible both from Julia Davis Park and the Greenbelt.
---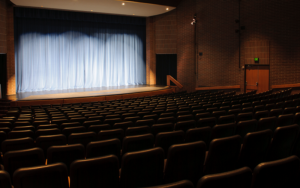 Special Events Center
In the Special Events Center (SpEC), all the world's a stage with continental seating. Music, dance, drama or opera, conferences, lectures or films, the 435-seat proscenium theater is an exceptional venue for raising the curtain on a wide spectrum of programs and activities. Each year, audiences throughout Idaho applaud award-winning speakers and performers from across the country, and around the world.