By Anna Webb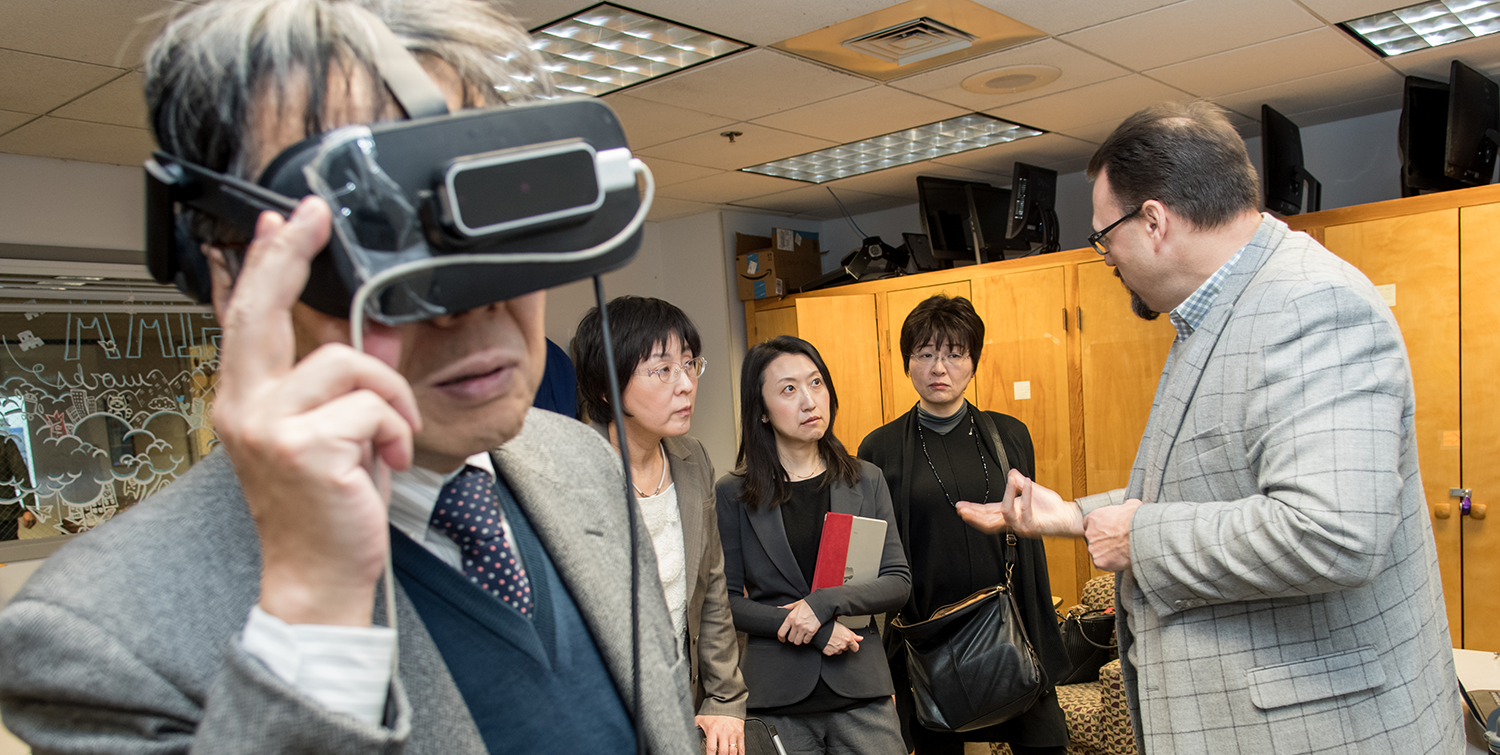 The College of Innovation and Design (CID) opened its doors three years ago to encourage bold ideas, break down the traditional walls between academic disciplines, and help students hone the skills employers value most.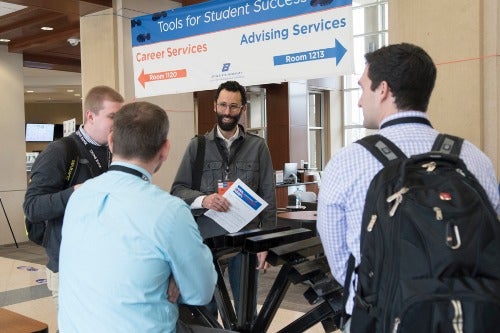 The college has a growing list of accomplishments, from an award-winning virtual reality simulation that trains nursing students, to hundreds of apps with more than a million downloads, to annual events like the Idaho Entrepreneurship Challenge hosted by CID's Venture College, the on-campus incubator for student start-ups. The 2018 challenge brought 24 teams from nine Idaho colleges and universities to campus to pitch their business ideas to entrepreneurs from across the country. The Venture College also recently welcomed nonprofit industry leader Tara Russell as its first resident in a new program, the Venture College Women in Leadership Residence.
Other programs within CID dovetail directly into the workplace. Bridge 2 Career offers instruction in creating compelling digital content, design thinking and app development. CID offers several certificate programs, including Design Ethnography that uses traditional research skills to better inform cutting-edge design. CID also has built connections beyond campus with programs like the Harvard Business School Credential of Readiness. Students take online classes through Harvard Business School combined with in-person instruction at Boise State.
CID's Leadership and Human Relations Skills-Building Certificate program (LEAD) also offers coursework designed to help Boise State graduates navigate the real world and its challenges.
"Any new graduate is going to have to learn what is going on in the market, in their field, in the culture. Trying to teach those things in college can only go so far," said Professor Heidi Reeder, who directs the LEAD program.
A college like CID can respond to studies like that from the Association of American Colleges and Universities that found 93 percent of employers value skills including critical thinking, communication and problem solving above particular undergraduate majors.
In response, LEAD's classes focus on conflict management, negotiation, case studies in leadership and more. Instructors include community leaders from across disciplines.
Senior Elizabeth Raphael started LEAD in her junior year when she was president of her sorority, Alpha Xi Delta. She had to learn to walk a fine line between being a friend and an authority figure for 150 peers. Her LEAD classes, she said, taught her tangible ways to navigate difficult conversations and how to connect with other people through empathy.
"I feel confident that whatever I take on, I will pull out those skills I learned," said Raphael.
The LEAD program benefits a range of students, including those who may never have visualized themselves as leaders, said Reeder. One of the most rewarding things for her is seeing those students realize that setting an example for others can take many forms: writing convincingly, caring for other people, or serving others through organizations. "It's not all dominance and control. Anything you're doing that brings about positive change. We call that leadership," said Reeder.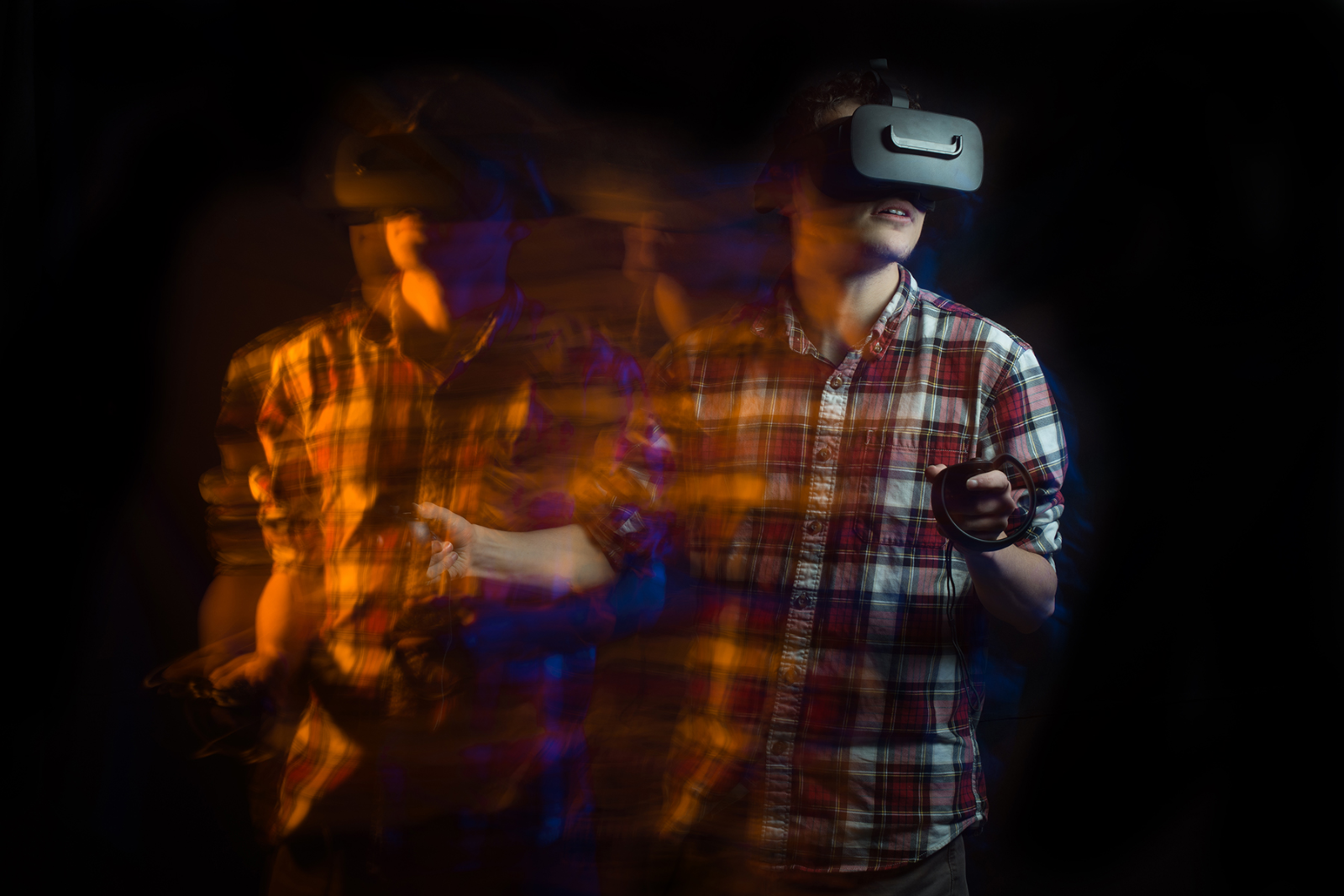 "The model of GIMM can be replicated more widely. What we're doing in terms of creating a seamless pipeline between ourselves and industry is the next model for universities and higher education." – Anthony Ellertson, Professor, College of Innovation and Design
Gaming, Interactive Media, and Mobile Technology (GIMM) is one of CID's signature programs. Students can earn a bachelor's degree in the discipline. Again, the emphasis is on encouraging creative communication between students and the creation of projects with real-world application.
Students are accustomed to the American structure of higher education that divides them into majors and specialties. But what they really want, said GIMM Director Professor Anthony Ellertson — referencing the iconic school from the Harry Potter series — "is Hogwarts."
GIMM professors don't have offices that separate them from students. Students and professors work together in an open lab every Friday. On a typical day, said GIMM major Liz Altmiller, students are working on 30 or more projects in the lab. Altmiller came to the program with experience in sound design, writing and performing music. She wants to work in "user experience design" when she graduates – helping people use technology in the most efficient and aesthetically pleasing ways.
The GIMM program, she said, "brings people together to make the world a better place," while also being a safe harbor to try new ideas and even make mistakes. The lab is a place for serious work – students recently hosted a group of Japanese nursing faculty – but it's also a place for games, brunches, impromptu music performances, or anything else that stirs creativity and collaboration.
Ellertson wants graduates to leave Boise State with a portfolio of quality projects to show potential employers. The GIMM lab is an on-campus "hothouse" where students can develop those projects.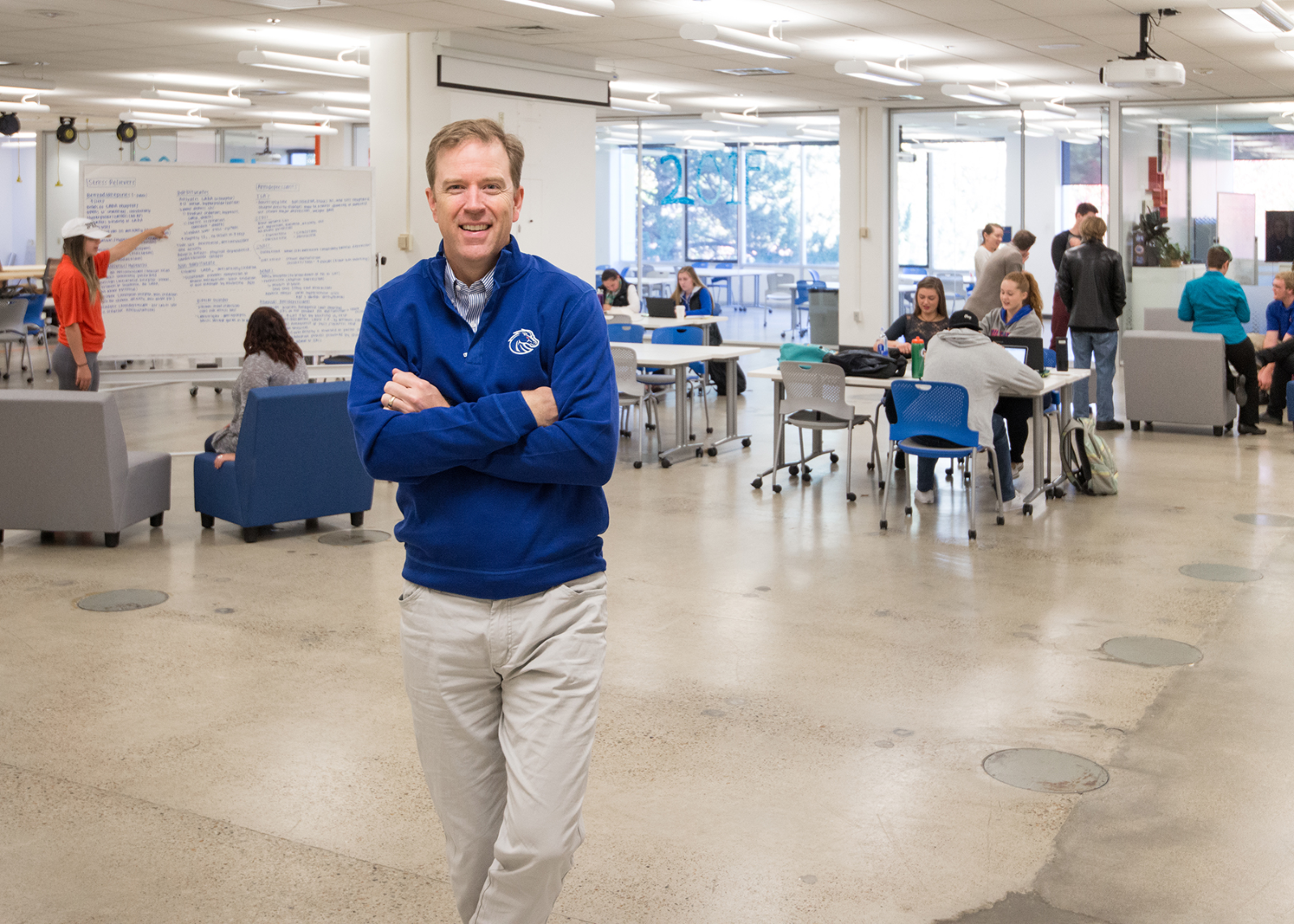 The Dean's Vision
By Gordon Jones, dean
The College of Innovation and Design is organized not by academic disciplines, as virtually all colleges are across higher education. It is, instead, discipline neutral and focuses on supporting faculty and initiatives that re-imagine how teaching, research and learning occurs at Boise State, with an eye on emerging workplace requirements. Student and faculty interest has been strong from the beginning; as of January 2018, more than 1,000 students are enrolled in CID courses.
One example of our work is our new GIMM major. CID collaborated with a faculty member who fused the disciplines of art, psychology and computer science to form a new undergraduate major in augmented and virtual reality (VR/AR) that serves growing employer demand for these skills. That major today has more than 300 students enrolled with an expected increase to 450 by fall 2018. This major will be among our top 20 in student enrollment after only four years.
A second example is our partnership with Harvard University. CID was the first public university to partner with Harvard University to offer Boise State students the opportunity to simultaneously earn a Harvard credential of readiness (CORe), certifying their competency in basic business skills, and earn 9 credit hours toward their diploma — at in-state tuition rates. This partnership helped pioneer a new way for universities to offer exceptional learning, develop marketable skills, and graduate empowered and educated citizens.
More broadly, CID has invested in faculty and courses that offer our students the skills and experiences that enhance their learning and post-graduation outcomes. From certificates in leadership to elective classes in coding skills, creative problem-solving, and credit bearing internships, CID serves as a catalyst for the university, a model for the higher education industry, and a collaborator with the community in search of visionary university partners. As reported in the Chronicle of Higher Education, and evidenced by invited speaking engagements around the country, Boise State and the College of Innovation and Design are in the national conversation of where higher education is headed, thanks to the leadership of President Bob Kustra, who had the vision to ensure that Boise State stays innovative and relevant in the future.