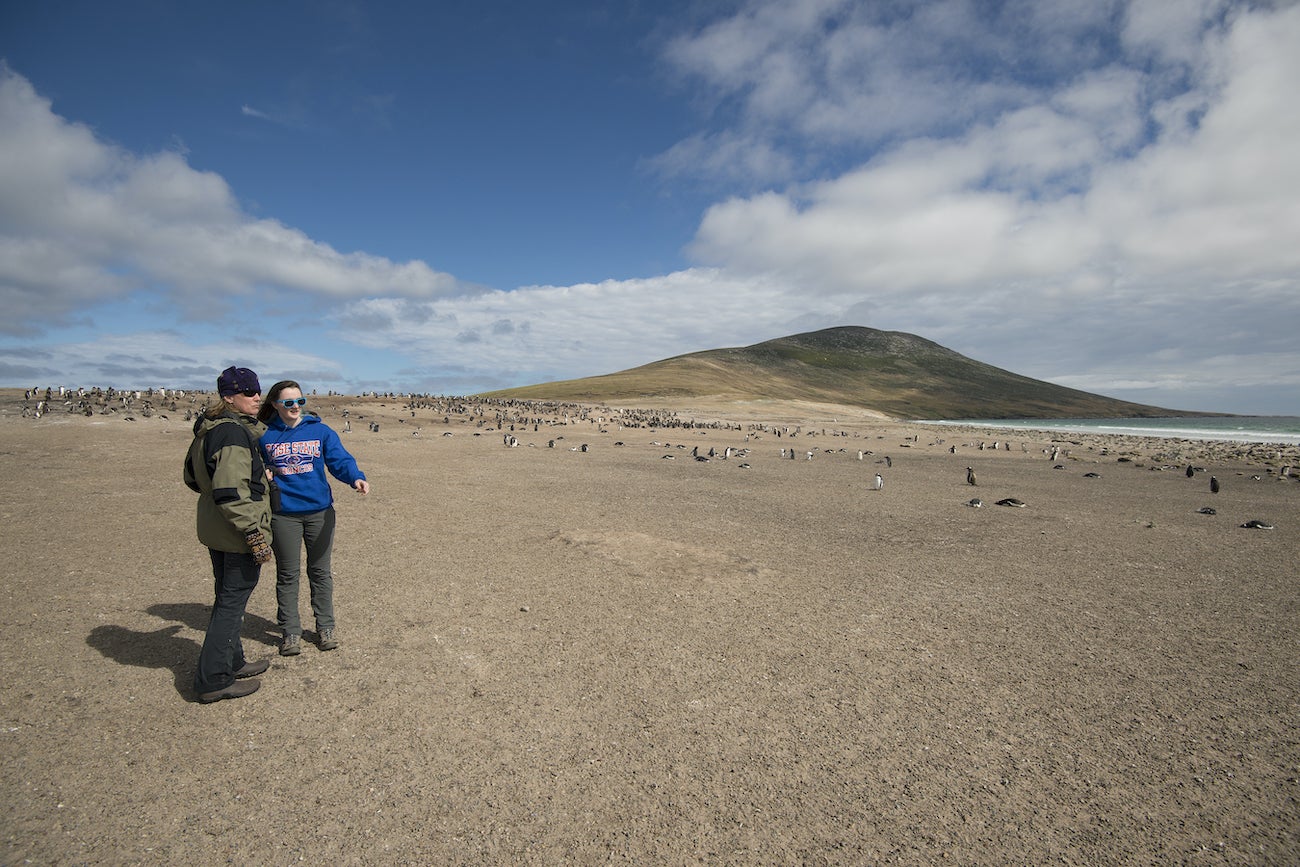 This February, Gretel Care and Lauren Young embarked on a once-in-a-lifetime trip to the Falkland Islands, just east of the southern tip of South America, a few hundred miles from Antarctica. It takes three days of flights and layovers just to get there from Boise.
The undergraduate student and recent Boise State graduate — a candidate for a master's degree program — headed to the wild and remote Saunders Island to build on prior research led by faculty member Marc Bechard on the ecology of black-browed albatrosses and five species of penguins who call the islands their home.
Bechard and Boise State's other raptor biologists teach in the nation's only master's program in raptor biology, do research through the Raptor Research Center and play a vital role in Idaho's own ecological studies through the Idaho Intermountain Bird Observatory.
The research they and their students do has impacted bird populations and habitat around the globe. Just in the past few years, they have taken undergraduate and graduate students to study raptors in Kenya's Masai Mara National Wildlife Reserve; at the Strait of Gibralter, a vibrant migratory passage; at the Gorongosa National Park in Mozambique — and more.
See more images from the Falkland Island trip and watch a video of the students' experience here.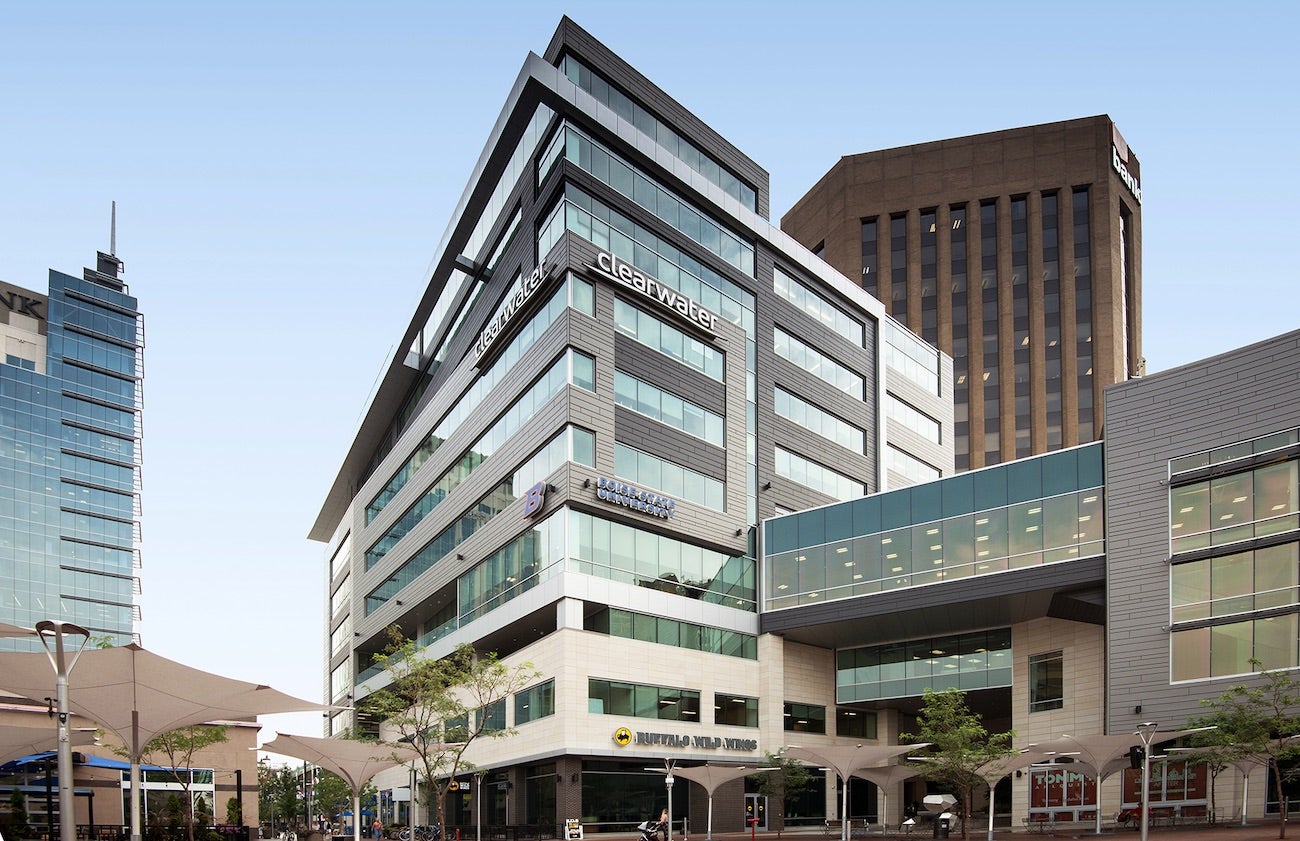 A metropolitan research university
The opportunities are emblematic of the kinds of hands-on, applied research experiences that Boise State offers undergraduates and graduate students alike. That is thanks to a more than decade-long effort to become the metropolitan research university of distinction that Idaho's largest city, one of the fastest-growing in the nation, needed to continue to thrive.
The lofty target was laid out in President Bob Kustra's very first university-wide address, in August 2003. The hard work was recognized 13 years later, when Boise State was classified as a doctoral research institution by the Carnegie Classification of Institutions of Higher Education — the nation's premier college classification system.
It was a gratifying moment for Kustra, Provost Martin Schimpf and Mark Rudin, vice president for research and economic development. But it was just the beginning for the university Boise State had become.
Official research status has meant "reputational currency" for Boise State, Rudin said — and that plays out in the faculty Boise State can hire, the graduate students it can recruit and more.
"I think they see the environment here and it's really attractive," he said.
It also has drawn more partners in Boise and across Idaho, who increasingly see Boise State as a leader in the kinds of applied research that can make an immediate difference.
A devotion to the undergraduate experience
In turn, these top-notch faculty and vibrant industry partners provide undergraduate students opportunities that set them apart in their future workplaces and graduate programs. Rudin always is quick to point out that Boise State never would have achieved doctoral status as quickly as it did without the opportunities available to undergrads — and the great work they did when given the chance.
"These are our faculty stars doing research, but they are bringing students along with them," Rudin said. "You really can't distinguish between the research and the teaching or vice versa."
"There is no question that research-active faculty members — often national leaders in their fields — are associated with doctoral programs, and these same faculty members add greatly to undergraduate research opportunities," said Jack Pelton, former Graduate College dean.
The emphasis on undergraduate experiences "helps Boise State stand out" among institutions across the country, said Paul Simmonds, an assistant professor of physics who has spent time at Yale and two of the University of California's top research campuses at Los Angeles and Santa Barbara.
"At many U.S. universities, research labs are the province solely of graduate students and post-docs, while undergraduates only get to experience teaching labs. This is not the case at Boise State, where undergraduate students are key members of many research groups, participating in real experiments, and presenting data in group meetings, conferences and even journal articles."
That translates into graduates with solid technical skills, resumes that include "career-critical experience," and the beginnings of a professional network, he said.
A significant portion of Boise State's sponsored research is actually focusing on teaching itself. A National Science Foundation grant has transformed undergraduate math and science courses across campus into hands-on, active experiences.
"It has been incredibly successful," said Amy Moll, a professor in the Micron School of Materials Science and Engineering who was the dean of the College of Engineering when the grant was first earned. "I don't know of any other college of education in the country that requires a 60 percent teaching load while also producing scholarship and grant expenditures at our rate," said Rich Osguthorpe, College of Education dean.
Boise State's evolution into a doctoral research university also was driven by the creation of the College of Western Idaho, built from the foundation of what was the Larry G. Selland College of Applied Technology at Boise State. That move helped Boise State focus resources and campus space to expanding graduate programming, while vastly increasing access to higher education across Southwest Idaho. Today, more than twice as many students are taking classes for credit at Boise State and CWI combined than were in 2007.
The relationship between the two colleges remains strong, and Boise State's research opportunities extend to CWI students. A new grant from the National Institutes for Health has created the Bridges to Baccalaureate program, which "focuses on establishing a direct pipeline for underrepresented students at the College of Western Idaho to attend Boise State to one day become future biomedical researchers," said Cheryl Jorcyk, a biology professor who researches breast cancer and leads Boise State's clinical translational research.
A commitment to the community
Today, researchers in Boise State's College of Education are reshaping special education teaching around Idaho (and far beyond) — and every teacher and administrator in the state is required to take a course Boise State professor Jonathan Brendefur developed on math teaching and learning.
Biology and health sciences faculty and other researchers are impacting health and quality of life through research and applied partnership with neighboring hospitals and others.
Graduates of the biomolecular sciences Ph.D. program now work as postdoctoral fellows at the Veterans Affairs Medical Center in Boise, supporting research into infectious diseases — a level of homegrown expertise that was nonexistent just a few years ago.
The School of Public Service focuses intently on the needs of the region. The school's Idaho Policy Institute has helped the Idaho Department of Agriculture evaluate the costs and benefits of 24-hour invasive species checkpoints, reviewed public defense efforts across the state to inform workforce standards, teamed up with the city of Boise to find workable solutions to the complex issues around homelessness, and more.
These programs and many more have stemmed from Boise State's firm commitment to grow graduate programming and research efforts around pressing regional needs.
"Computer science is a super example," Moll said. "Moving them downtown was brilliant — even though I thought it was crazy when it was first proposed. Students are creating start-ups, and there is both formal and informal interaction with local software companies. New companies have moved to Boise because of computer science."
"We have greatly expanded the research and collaboration with the Idaho National Laboratory — especially in materials science and in sensor development with an emerging effort in cyber security for industrial controls systems," she added.
Boise State's ecological research, such as Jesse Barber's work on how noise and light pollution affect certain species, is shaping how federal and state land managers work to mitigate these issues, said Julie Heath, a professor of biology and the graduate programming director for the department, which recently launched a Ph.D. in ecology, evolution and behavior.
"The faculty interests span all levels of life, from molecular interactions, to physiology and morphology, to organisms, populations, communities and landscapes," she said.
An upstart with a clear direction
It may be Boise State's recent transition into a doctoral research university that is exactly what makes it unique.
"Because of our age, and the collaborative nature of the faculty and deans, the traditional 'stovepipe' disciplines are easier to overcome here at Boise State," said College of Engineering Dean JoAnn Lighty, who came to Boise State last year after many years of research at the University of Utah and a stint at the National Science Foundation.
"We may be one of the only universities that 'specializes' in interdisciplinary doctoral training," said Tammi Vacha Haase, dean of the Graduate College. "We do this because it is progressive, meets the needs of the future and fits with what our community and industry believe the future workforce needs."
That focus on regional needs, coupled with Boise State's increasingly global allure to top-notch graduate students, is translating into a significant "brain gain" for Boise and the state, Vacha Haase said, as students are attracted to the programs here and remain to contribute to the economy when they graduate.
In short, she said, "everyone benefits from increasing doctoral programs at the university."