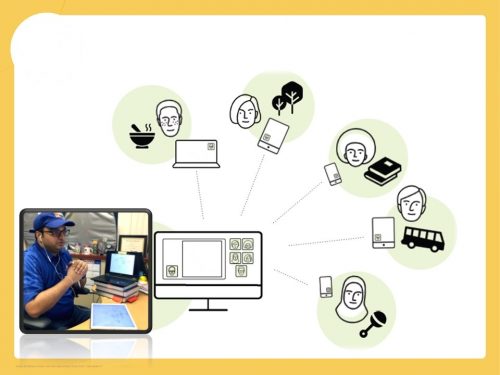 For educators and students, the traditional office hour is a well-intended measure plagued with limitations. Physical space is finite, the schedules of dozens of students prohibit cohesive and diverse participation, and the voices that dominate in the classroom often continue to do so outside of it, to the detriment of less vocal students.
However, Boise State researcher Krishna Pakala, a clinical associate professor in the College of Engineering and faculty associate for mobile learning in the IDEA shop, has overcome these limitations by creating Happy Hour: an innovative virtual space that leverages technology to elevate pedagogy and student success.
Using the video chat platform Zoom, Pakala initiates Happy Hour twice a week with an iPad. Students login through Blackboard, and are able to watch, participate, comment and use the chat function to engage with each other around an engineering problem for a maximized learning experience. Every Happy Hour is recorded, an especially beneficial function for students whose schedules did not allow them to participate, or those who wish to revisit the material. Student participation is not mandatory, but can be counted towards the number of peer educator sessions for the class.
For Pakala, Happy Hour offers greater opportunity for the students in his engineering classes to ask questions, learn from one another and create a positive learning community outside of the classroom that then carries over to the classroom experience.
"Unlike the classroom lecture, where I drive conversation most of the time, here it is driven by the students," Pakala said. "If I have 50 students, I cannot get them all in my office, whereas in this virtual space, I can let any number of people in and I can meet them where they are."
Happy Hour also breaks down the hegemonic barriers that often exist in engineering classrooms, enabling everyone to use their voice to enrich the class. For instance, students who are often the minority in engineering classes may not feel comfortable speaking up in a classroom. Happy Hour offers the space and opportunity to empower classroom minorities to have their voices heard.
Anonymous class evaluations show that students have overwhelmingly positive reactions to Happy Hour, listing it as one of the most valuable aspects to their overall learning experience in the class. One evaluation even referred to Happy Hour as "a Godsend."
Pakala began implementing Happy Hour in spring of 2013, and since has found that virtual office hours eclipsed the need for the traditional office hour. While the walls of a physical office can pre-determine student involvement, Happy Hour has no such boundaries, enabling an entire class to fully interact. The non-physical nature of the virtual office hour even enabled Pakala to continue teaching classes for several weeks from India in spring of 2017 when the Trump administration's travel ban complicated his return to the United States.
For Pakala, developing Happy Hour was a necessary pedagogical choice in order to serve the needs of his students, and he believes that the method should be adopted widely in order to support student success.
"It is not the instructor, but the method and the platform that students are praising," Pakala explained. "Learning should not stop at the classroom. I'm doing this because students are saying this is something that should be done. We have a responsibility to see what else we can do."