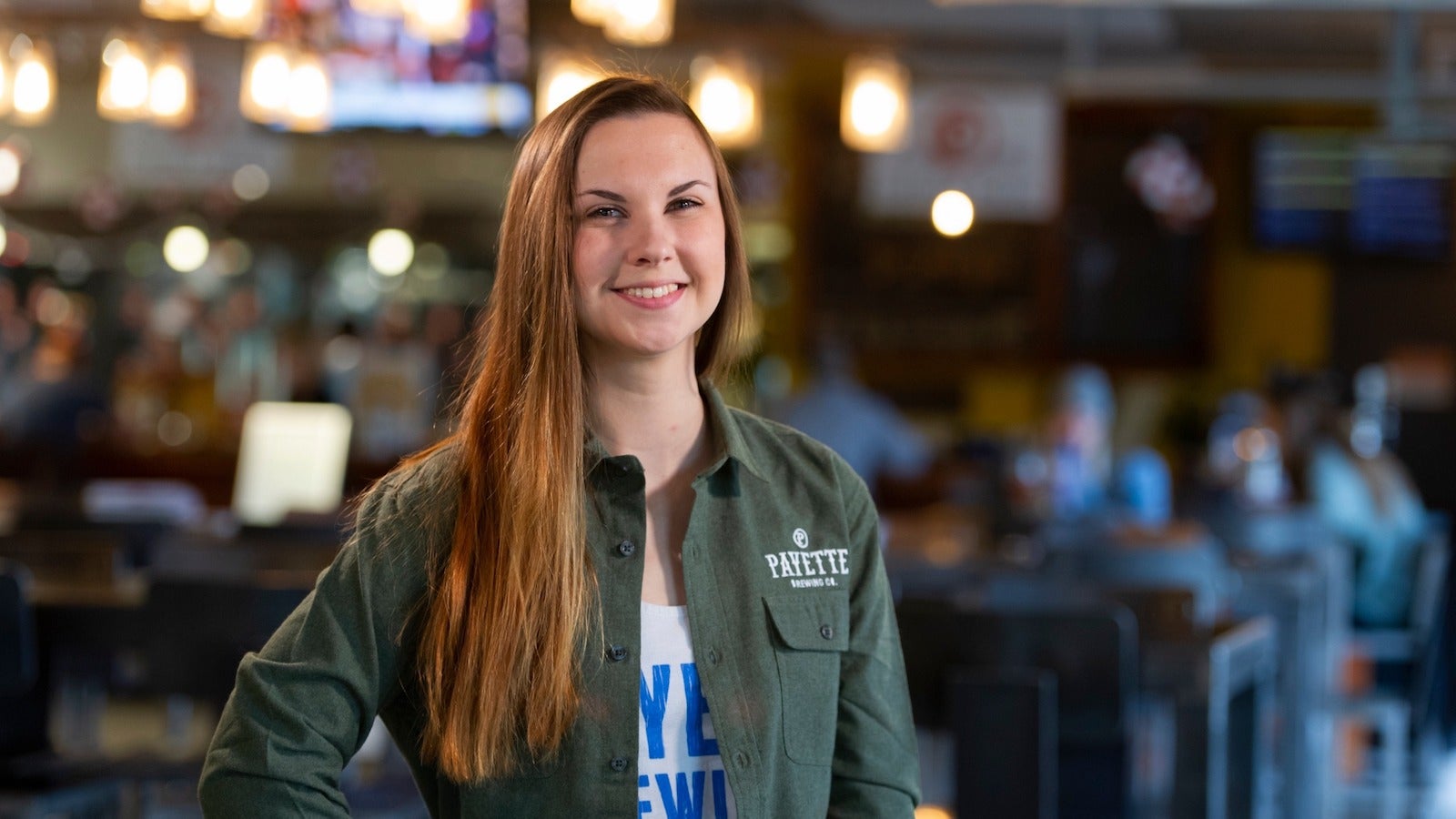 It doesn't take much for Boise State graduate Cassidy VanWarmerdam to light up when the words "quality control" and "beer" are mentioned. While the average happy hour enthusiast might not often think about the work that goes into making every brewed batch of beer taste as good as – and identical to – the last, for VanWarmerdam, these are words to live by, and they're helping Payette Brewing continue to expand its territory in an ever-growing, competitive craft beer landscape in the Northwest.
Nestled along the Boise River in downtown Boise, Payette Brewing is home to an array of year-round, Idaho-themed lagers like the North Fork and Rustler, seasonal favorites like Oktoberfest and barrel-aged "perennials," which are released once a year. In the seven years since its inception, Payette's distribution has grown significantly. The brewery not only distributes its products throughout Idaho, but also to six neighboring states. With a rising profile, Payette's room for error is little to nonexistent.
That's where VanWarmerdam comes in.
"If you want to be successful in the craft beer industry," VanWarmerdam said, "You have to have a good quality control portion of your brewery."
Behind all of the hustle and bustle of Payette Brewing's taproom stands VanWarmerdam's domain. As the lead quality control lab technician, she follows the beer from start to finish from her office-turned-science lab. Her job involves sifting through thousands of pounds of yeast per month, taking samples back to the lab and checking for microbiological infections. She monitors the CO2 levels of the giant, stainless steel tanks and conducts pH level tests. Thousands of gallons of beer drop into the tanks as she plugs in 100 pounds of yeast to start the fermentation process. She coordinates trained sensory panels to blind taste test various samples and to ensure that the beer is carbonated properly because, like she says, "nobody likes flat beer." When the product is ready to flow out and hit the shelves, she analyzes the amount of beer in each can and its oxygen levels. Although the process seems complicated and ripe for error, she says the attention to detail comes naturally to her.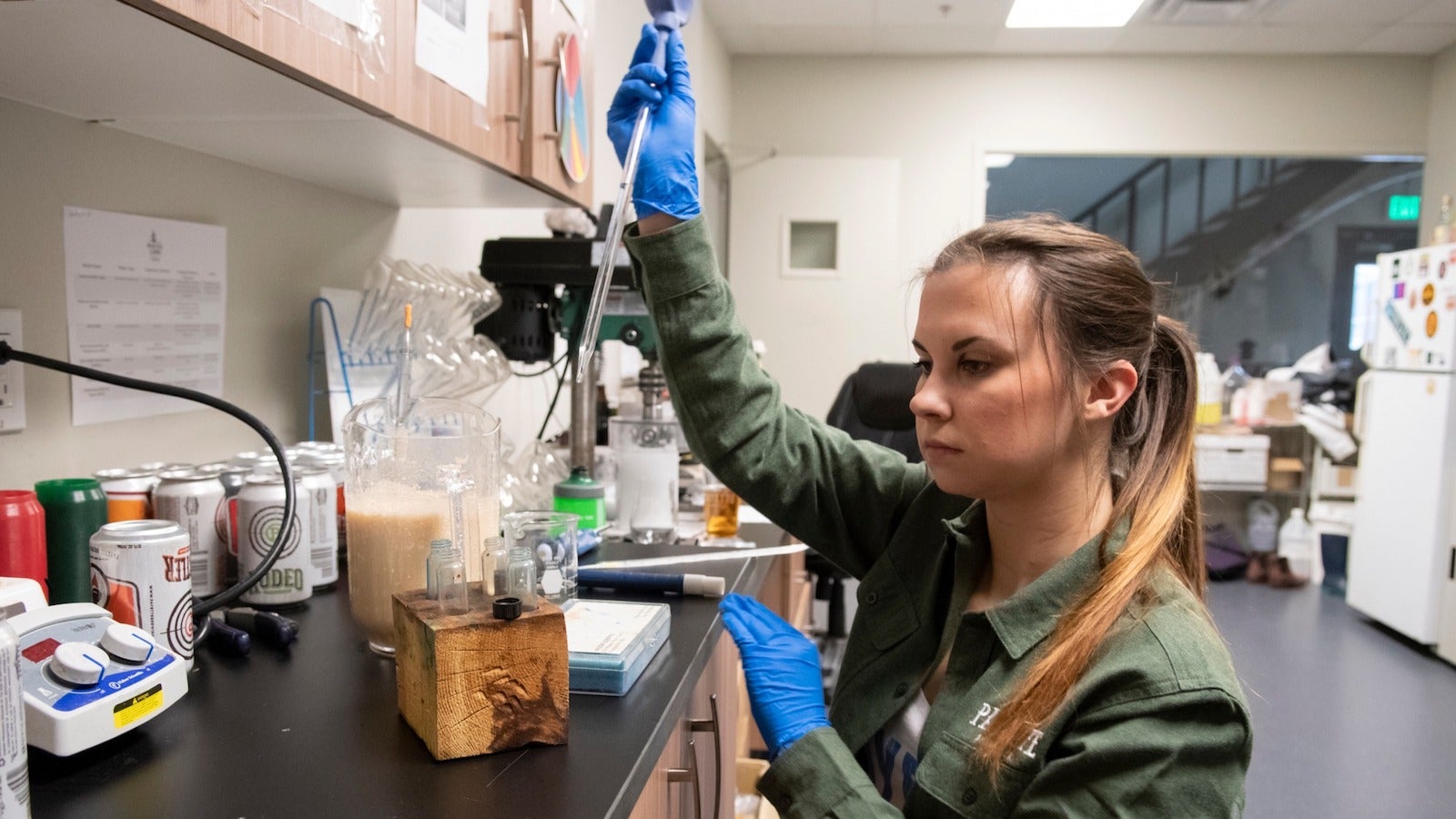 She is meticulous about using proper lab and sanitary techniques — a crucial part of the quality control process that was emphasized in her biology courses early on in her Boise State college career.
"The classes I took at Boise State and the degrees that I've earned have been very useful," she said. "Biology 191 taught me to have a clean area to work on, otherwise you're going to get infected results. Those things don't seem like a big deal when you're a freshman, but they're so important."
"The little things you learn, even in the introductory classes, are coming through in my career right now." —Cassidy VanWarmerdam
VanWarmerdam joined Payette Brewing when she was 21 years old, starting out as a "beertender" without any beer-making knowledge. Management discovered that she was studying biology and chemistry at Boise State at the time, and started reeling her into the production areas in the warehouse, teaching her how fermentation works, what the canning line procedures look like and, ultimately, how the product enters the market. They later offered her the role of quality control lab tech to run and oversee all lab operations, which she credits Boise State for the opportunity. "It's just fantastic that I can really use my degrees in the craft beer world."
The quality control techniques that VanWarmerdam employs are crucial to Payette Brewing's success and consistency, and separates their product from the rest of the pack.
"Everybody's making a hazy IPA, a lager these days," she said. "What's setting breweries apart right now is the quality of the beer. If it's fermented properly, if infections are spotted, if the right kinds of quality ingredients are used. Those kinds of things are so important."
Boise State graduates like VanWarmerdam are making an impact behind the scenes of rising industries, such as craft beer, in the Boise community and beyond.
"It's a huge biological explosion [in the Payette lab], but in a good way!"
Watch the Video