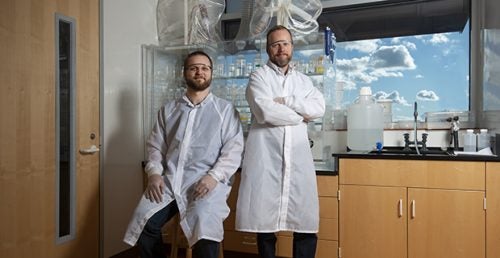 The National Science Foundation (NSF) Geosciences Directorate awarded Boise State University's Isotope Geology Laboratory (IGL) a grant of $672,000 as part of the Laboratory Technician Support program, making the Boise State lab one of only seven in the nation to receive such funding. The grant will fund five years of technician support and further the laboratory's geochronology research.
Geochronology is the analysis of radioactive decay in rocks to determine Earth's epochs and evolution, and enables scientists and researchers to paint a more complete and detailed account of the planet's formation and history. The lab specializes in U-Pb geochronology, or the study of uranium-lead decay, to create this geologic timeline.
Professor Mark Schmitz, director of the IGL, explained that the grant will ensure Boise State's geochronology work is nationally accessible  and recognized. At Boise State, this new work will be carried out in the lab by Research Associate, Corey Wall.
"This grant is elevating our status from a well-respected research laboratory to a national facility for geochronology," said Schmitz. "Boise State University's IGL is among seven laboratories awarded funding for a laboratory technical support scientist to promote community use of our world-class U-Pb geochronology facility. This will facilitate our even broader impact on the national and international geosciences communities, as more scientists visit the IGL, send students for training and submit samples for geochronological analysis."
The grant will enable Wall to provide technical support to the Boise State lab, thereby enabling it to accommodate scientists from across the country and globe, and bolster research collaborations. Wall joined the IGL in fall of 2016 after receiving his Ph.D. from the University of British Columbia, and expressed his eagerness to collaborate with the help of the NSF grant.
"I am honored and thrilled to get this opportunity to collaborate with so many NSF funded geoscientists over the next five years and continue to push the leading edge of geochronology here at the IGL at Boise State University," he said.