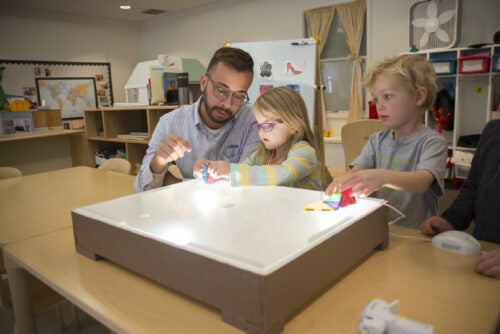 Last May, the College of Education, in partnership with the Boise State Children's Center and Idaho STEM Action Center, began an innovative program to introduce young children to STEAM (Science, Technology, Engineering, Art and Math) thinking. The ongoing project will produce demonstrative videos instructors can access through the Idaho STEM Action Center website that will aid in a variety of early-childhood learning settings.
Yvette Mere-Cook, an assistant professor in the College of Education, and Lisa Allred, director at Boise State Children's Center, worked together to implement classroom-based STEAM projects focused on helping kids work through problems they encounter through play, using their own curiosity and natural openness toward inquiry to come to conclusions. The program is focused on infant through five-year-old classrooms. Focusing on the youngest learners makes Boise State's program unique.
"Young children, including infants, engage in the STEAM thinking process everyday through play and exploration," Mere-Cook explained. "As a result of this approach, young children not only deepen their understanding of the world around them, they develop problem-solving skills and express their creativity."
Research has shown developing STEAM thinking skills early in childhood sets a foundation for progress in STEAM learning from elementary school through college, and can help prepare students for the high-tech job market where employers are looking for workers who not only possess strong technical knowledge in science-related fields, but also have the ability to think creatively and critically.
"Integrating STEAM in early childhood is an approach to learning that does not provide children with answers, but encourages them to explore and wonder," Mere-Cook said.
The program also gives teachers at Boise State Children's Center the opportunity to expand their knowledge base and learn innovative STEAM teaching strategies. Instructors support kids' natural curiosity by asking open-ended questions, allowing children to make observations and predictions, and help them test their theories. In addition, teachers can take a one-credit course through the College of Education to support STEAM learning implementation in their classrooms. The videos created of the projects will be an asset any instructor can use to implement the techniques in their own learning environment.
"It is exciting to be part of the STEAM Collaboration Project with the Idaho STEM Action Center and the College of Education," said Allred. "The best part is the community building that has occurred with young children and adults, as well as several other departments on campus."
"This project provides engaging STEAM activities for young learners, while also producing outstanding professional development opportunities for early childhood educators that will be accessible throughout the state," said College of Education Dean Richard Osguthorpe. "Moreover, this partnership highlights the collaborative power that results from innovative thinkers combining expertise from state agency administrators, higher education faculty, and classroom practitioners."