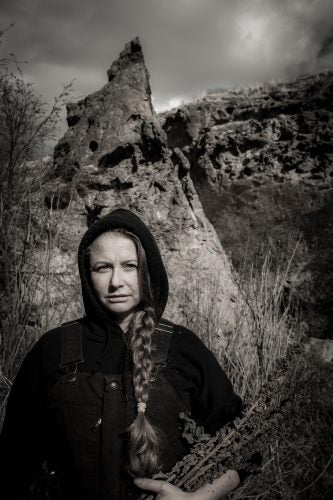 In her body of work "Osmosis," Khara Oxier integrates concepts of human evolution, development, causation and adaptation. Her abstracted figures draw attention to the fluctuating subjective consciousness which involves a deep internal dialogue with external environments. These stylistic dualities create a multivalent viewing experience.
Oxier's mental environments encourage consideration of comfort in change, internal conflict, cyclical thought and the complexities of life.
An exhibition of "Osmosis" runs through Feb. 24 in the Student Union Fine Arts Gallery. Oxier will give an artist talk from 6-7 p.m. on Thursday, Jan. 24, in the gallery. This event is free and open to the public. Light refreshments will be served.
Oxier served as a United States Marine and graduated from Boise State with a bachelor's degree in anthropology. During her time at Boise State, she received a traumatic head injury which inspired her to paint.
For more information, contact Fonda Portales, Boise State University Art Curator and Collections manager at 208.426.2541 or at fondaportales@boisestate.edu.