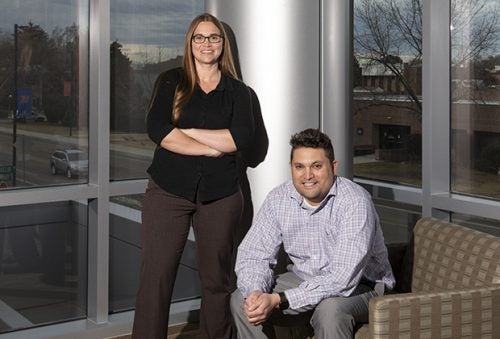 Two Boise State University researchers have been awarded a $700,000 grant from the National Science Foundation (NSF) to support the transdisciplinary scholarship of Assistant Professor of Computer Science Cathie Olschanowsky and Associate Professor of Geosciences Alejandro (Lejo) Flores as they work to develop a framework to drive innovation in hydrologic simulation platforms.
The complex synthesis and simulation of water movement across Earth's surface has been identified as a "Grand Challenge" by the NSF. The variability of topography, climate and precipitation are just a fraction of the elements that must be accounted for in hydrologic models. Flores described the difficulty of this kind of synthesis in terms of the Boise area landscape, and how that translates to the much larger scale of the project.
"We sit here in Boise, a mere 10 kilometers or less from Bogus Basin. Bogus Basin receives four times more precipitation every year, and is probably 10-15 degrees cooler on average. So the challenges that we face are 'how do we model, and better predict, how things like precipitation and runoff change from here to there' with adequate resolution and fidelity to what is actually going on in the real world, but at the scale of the whole continent," Flores said.
While advanced simulation platforms work to tackle these challenges, they are limited in terms of operability and accessibility for non-expert users, and the kinds of hydrologic models they can create.
"Decades of model development, combined with advances in solver technology and software engineering, have enabled large-scale, high-resolution simulations of the hydrologic cycle over the U.S., yet substantial technical and communication challenges remain," said Olschanowksy.
"Interactions with the models themselves are generally limited to a small group of model developers. The proposed project seeks to change this, developing a software framework to enable users with varying computational backgrounds to work directly with the models to accelerate their own scientific study."
The grant to support the work of Olschanowsky and Flores is part of a greater collaborative grant of more than $3 million awarded to faculty and researchers from the Colorado School of Mines, University of Colorado Boulder, University of Arizona, Utah State University, the San Diego Supercomputing Center, the Consortium of Universities for the Advancement of Hydrologic Science and others.
"To accomplish this goal, we bring together a team of computer scientists and hydrologists to advance the science behind these platforms, accelerate their capabilities and build novel interfaces for user interaction," said Olschanowsky. "The result will be unprecedented hydrologic simulation capacity through a national hydrologic modeling framework designed to foster interaction and provide easy-to-use simulations for scientists, professionals and educators."