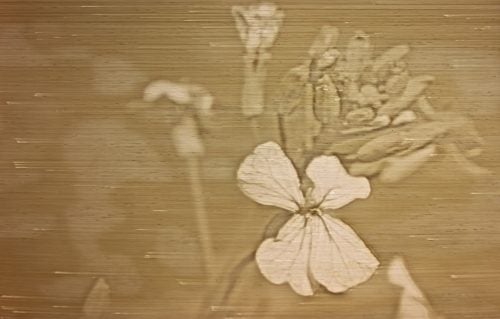 The thin, flat pane of biodegradable plastic appears deceptively insignificant until Silvia Perritte holds it up to the light, illuminating the 3D printed alfalfa flower hidden within its ridges. Winner of the call for art by the Vice President for the Division of Research and Economic Development, Perritte's artwork, titled "Flora 3D Printer," was selected to grace the office of the division and awarded a $500 prize.
"Flora 3D Printer" fulfilled the theme of artwork that explores the relationship of art to research and creative discovery while including interdisciplinary motifs. As a recent graduate of Boise State, Perritte's interdisciplinary background as a geosciences major with a fine arts minor ultimately inspired her to blend together light, 3D printing and botanical photography. An excerpt from Perritte's artist's statement describes her process.
"I believe that art and research lead to more discoveries. Research is understood by conceptualizing an idea and translating those ideas to the public through art with drawings, diagrams, etc. Technology has transformed how art can be made with different tools and materials. As a future geoscientist and artist, I wanted my artwork to reflect the juxtaposition of technology and research using nature and light."
Perritte photographed a flowering head of alfalfa while assisting in Boise Center Aerospace Laboratory (BCAL) research being conducted by geophysics masters student Thomas Van Der Weide at an alfalfa field. She then uploaded the photo into a web program to create a 3D model for a lithophane. A lithophane traditionally is a thin material with an etched surface that reveals an image when backlit. Perritte created the lithophane, experimented with the perfect light source to place behind it, then photographed it.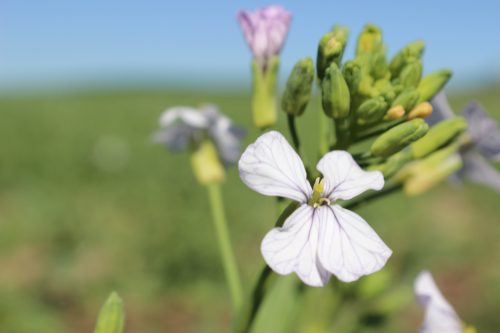 The multiple experimental and innovative steps to creating the piece meld research and art, and challenge the perceived lines between the two.
"Being in the geoscience program, I kind of got teased by my colleagues for having an art minor, because usually you have a GIS or mathematics minor," said Perritte. "But a lot of scientists are really creative people, and a lot of creative people are also scientists. When you're doing math or doing art, in my mind it's the same thing. You're solving something. I'm interested in art and science and don't really see a difference between the two."
Perritte hails from Olympia, Washington, and hopes to return to Boise State in the fall to pursue a graduate degree in geoscience, focusing on hydrology.